A Night of Pure (Minnesota) Meteorological Madness
Live long enough and you'll see (almost) everything. It felt like being in the middle of Tropical Storm Earl. Sunday night's display of meteorological mayhem was one for the ages.
Northfield saw 3 inch diameter hail, but most of the big hail reports were southern & western suburbs ofv MSP. Buffalo saw three different waves of golfball-size hail! 1 to 2 month's worth of rain soaked some communities. Cody Matz at Fox 9 estimates 1-2 lightning flashes per second at the height of the storm. Continuous lightning produced a steady roar of thunder.
The Perseid Meteor Shower peaks the next 3 nights. Even with a nearly full moon as many as 10-20 meteors/hour may be visible.
---
Photo credit above taken Sunday evening (before the storms hit): Paul Douglas
---
Twin Cities National Weather Service Storm Reports. Northfield saw 3″ diameter hail, but most of the big hail reports were just south/west of MSP, according to the MPX NWS.
---
Metro Area Hail Storms: August 9-10, 2020. The Minnesota DNR has details on Sunday night's wild storms: "…The second wave of storms eventually moved into areas affected by the first wave, producing more large hail, along with winds of 50-60 mph. The Twin Cities International Airport recorded a wind gust of 61 mph; Flying Cloud recorded a gust to 59 mph. Even areas not hit directly by the strongest storms experienced vivid, often continuous lightning. Many observers noted a "roaring" sound caused by the unending thunder. The storms formed in a very unstable environment, likely along corridors that had been disturbed by rain and thunderstorms earlier in the day. These corridors allowed strong thunderstorms to regenerate and affect many of the same areas multiple times. Buffalo in Wright County received golf ball-sized hail three separate times. Chanhassen had nearly non-stop activity from 7:45 to 10 PM, and again between 1 and 330 AM. The repeat activity resulted in rainfall of 2-3 inches in Wright, Hennepin, and Carver Counties, with observers near Chaska, Chanhassen, and Eden Prairie reporting 4-5 inches of rain. The National Weather Service forecast office in Chanhassen led the pack with an official total of 5.53 inches…"
---
Preliminary Rainfall Totals. Southern Hennein and eastern Carver received the most rain, with some 4-6″+ amounts; nearly 2 months worth of rain from 2-3 separate waves of thunderstorms. Data: NOAA.
---
No Need to Water Anytime Soon. My neighbor showed off his (new) rain gauge, with roughly 4.25″ rain reported near Excelsior. That's enough. Thanks.
---
---
Hail Core. My thanks to Rory Groves at Swift Weather for sharing this map, showing a concentration of large hail reports just south and west of the Twin Cities.
---
---
Toasty Ending to August. GFS guidance is fairly consistent about a bubble of (very hot) high pressure lingering over the central and western states the last week of August. Expect a run of muggy 80s, and I wouldn't be surprised to see a few more 90s roughly 2 weeks out.
---
Virginia Meteorologist Refuses to Apologize Interrupting NBA Game with Tornado Warning
. I feel your pain. Here's an excerpt from
Newsweek
: "…
Whenever there is a tornado warning, lives are at risk," Flickinger continued. "That's why when we go on TV and stay on over programming and commercials. You never know when someone new is tuning in looking for critical information to protect themselves and their families. We take this responsibility very seriously, and if we had a chance to do it all over again, we would." Footage from Flickinger's non-apology broadcast started making the rounds online on Monday, and people appeared to be a lot more understanding of his motives. "This is amazing. It is sad that people apparently need constant reminders that a bit of inconvenience is worth saving lives…" one person wrote on Twitter.
.."
---
Briefing below issued Monday, as the derecho was starting to sweep across Iowa.
---
Briefing: Issued Monday midday, August 10th, 2020:
Derecho Moving Eastward. We are tracking a line of intense, fast-moving storms across portions of central Iowa as we head through the midday hours. These storms will be capable of widespread damaging winds from central Iowa across northern Illinois into northwestern Indiana as we head through the afternoon and evening hours. A line like this that causes widespread wind damage (some of which must be intense) over a large distance is called a derecho. These storms are moving at approximately 70 mph to the east. Just as recently as 11:50 PM a 99 mph wind gust was reported at the Marshalltown, IA, airport.
---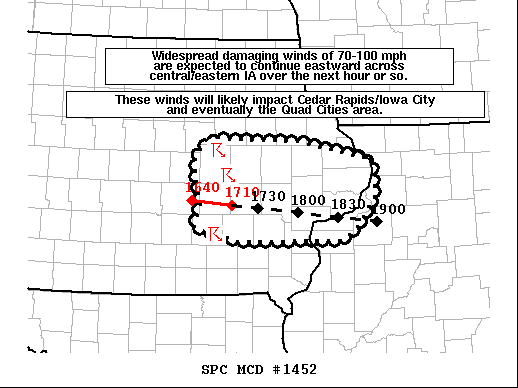 Next Couple Of Hours. Over the next hour this line of storms with winds of 70-100 mph will continue to push eastward, impacting Cedar Rapids by 1 PM and the Quad Cities area sometime around 1-1:30 PM.
---
"PDS" Severe Thunderstorm Watch Until 7 PM. As this line continues to race eastward, a rare "Particularly Dangerous Situation" Severe Thunderstorm Watch has been issued from eastern Iowa to northwestern Indiana, including Chicago, Milwaukee, Madison, and Cedar Rapids. These don't get issued very often and typically are issued when both the severe wind event (58+ mph) and hurricane-force (74+ mph) probabilities are both above 80%. The main event will be wind gusts up to 100 mph likely with that line of storms. We can't rule out some tornadoes along the leading edge of the line, as well as hail to ping pong size.
---
Moderate Severe Risk. Due to the expected widespread damaging wind event from this derecho, the threat level has been elevated to a Moderate Risk (risk level 4 of 5) from central Iowa to northwestern Indiana. This includes areas from Des Moines to Chicago. Once again, potentially extreme damaging winds are the main threat, along with embedded tornadoes and, to a lesser extent, large hail. Potential timing of storms below:
---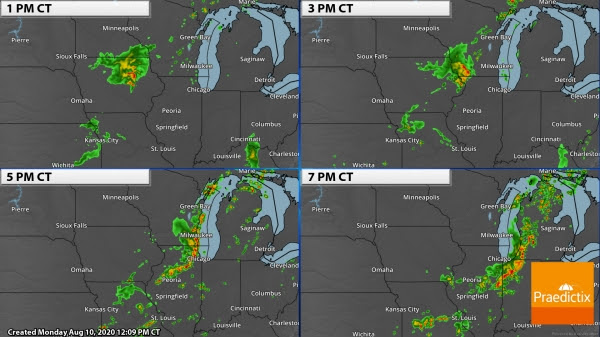 D.J. Kayser, Meteorologist
Here's What Happened:
---
---