Briefing: Issued Monday morning, August 24th, 2020:
A long week of weather is ahead along the northern/northwestern Gulf Coast as both Tropical Storm Laura (located south of central Cuba this morning) and Tropical Storm Marco (in the northern Gulf of Mexico) threaten the region.
Marco is expected to either scrape or make landfall across southern Louisiana today into Tuesday, weakening while it does so. However, it will still bring the threat of damaging winds, storm surge, and flooding rains along with it to the northern Gulf Coast.
Laura will continue to move near/across Cuba today and tonight. By early Tuesday morning, Laura will be in the Gulf of Mexico and is expected to quickly strengthen into a hurricane by Tuesday afternoon. By the time Laura approaches the northwestern Gulf Coast – somewhere near the Texas/Louisiana border – the system is expected to be a Category 2 hurricane with landfall expected late Wednesday or early Thursday. Laura will bring another round of damaging winds, storm surge, and flooding along with it to the Gulf Coast.
Numerous wildfires continue to burn across the western United States, with evacuations in place. Weather conditions will allow any new or ongoing wildfires to quickly spread over the next several days.
---
Back-To-Back Gulf Coast Threat. As we head into the work week, we will be tracking a back-to-back threat along the Gulf Coast as Marco scrapes the Louisiana coast today into Tuesday followed by Laura making landfall near Sabine Pass Wednesday Night or early Thursday as a hurricane.
---
Tropical Storm Marco
Tropical Storm Marco. While Marco had strengthened into a hurricane Sunday, it has since weakened back to tropical storm strength due to strong winds aloft. Rain bands from Marco have been producing heavy rain across portions of the Florida Panhandle overnight into this morning. As of the 7 AM CDT update from the National Hurricane Center, Marco had sustained winds of 50 mph with tropical storm winds extending out 105 miles from the center, mainly to the northeast. The center of Marco was about 85 miles south-southeast of the mouth of the Mississippi and moving northwest at 10 mph.
---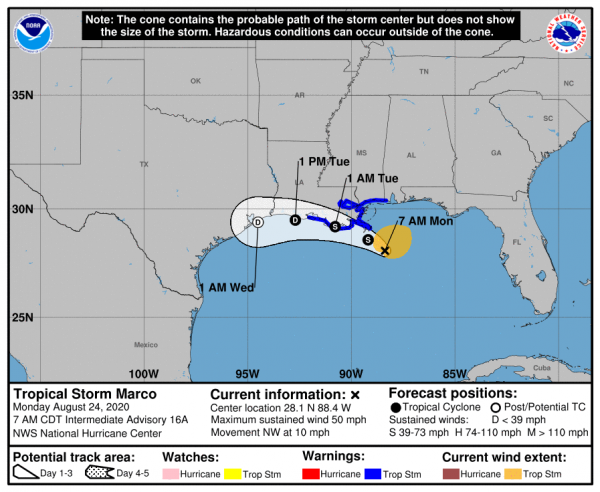 Marco Track. Marco will continue to approach the Louisiana coast as we head through Monday, eventually turning westward and essentially hugging the coast through Tuesday Night. Weakening will continue during this time, and Marco is expected to dissipate as it approaches the Houston area Tuesday Night. Despite the weaker state of Marco over the next few days, life-threatening storm surge flooding will continue to be possible across the Mississippi and Louisiana coastlines, tropical storm force winds will cause the potential for damage across the region, and heavy rainfall could lead to flash and urban flooding.
---
Marco Alerts. Due to Marco weakening, Hurricane Watches and Warnings have been cancelled but Tropical Storm Warnings continue across portions of southern Louisiana and Mississippi. Along the coast, here are where Tropical Storm Warnings are in place:
* Intracoastal City to the Mississippi/Alabama border
* Lake Pontchartrain, Lake Maurepas, and Metropolitan New Orleans
---
Strong Winds Near The Coast. The strongest winds will be near and along the Louisiana coast with Marco where wind gusts could top 50-60 mph. These winds could cause damage to roofs and siding, trees, and power outages.
---
New Iberia Wind Gusts. Winds will increase in New Iberia, LA, as we head into the overnight hours as Marco works westward along the Louisiana coast. The strongest winds are expected late tonight into early Tuesday morning when wind gusts could approach 60 mph.
---
Storm Surge Along The Coast. Marco is expected to bring a life-threatening surge of rising water inland along with it, causing normally dry areas to be flooded. The worst conditions would be around high tide, and the following water heights are possible if the dangerous storm surge and high tide coincide:
Morgan City LA to Ocean Springs MS, including Lake Borgne…2-4 ft.
---
Storm Surge Warnings. Due to the expected surge of water with Marco along the coast, Storm Surge Warnings are in place from Morgan City, LA, to Ocean Springs, MS, including Lake Borgne.
---
Rainfall Potential. Marco is expected to bring at least 3-5" of rain across portions of the northern Gulf Coast through Tuesday. In some areas, up to 10" of rain could fall. This rain could lead to flash flooding and urban flooding across the region.
---
Flash Flood Watches. Due to the heavy rain that is expected to fall with Marco, Flash Flood Watches have been issued from the Florida Panhandle to southern Louisiana through tonight.
---
A Few Tornadoes Possible. As is typical with these types of tropical systems, a few tornadoes will be possible across portions of coastal southeastern Louisiana and southern Mississippi. Due to the threat, a Slight Risk of severe weather is in place.
---
Tropical Storm Laura
Tropical Storm Laura. Laura has been slowly strengthening over the past day, and as of this morning is passing just south of the central Cuba coast. As of the 8 AM EDT update, Laura had 65 mph winds with tropical storm force winds extending outward up to 175 miles. The center of Laura was located about 125 miles east-southeast of Cayo Largo or 205 miles east-southeast of the Isle of Youth, and is moving west-northwest at 21 mph.
---
Laura Track. Laura is expected to remain just south of the Cuba coast through the afternoon hours before crossing western Cuba to enter the Gulf of Mexico. Before Laura reaches the Gulf, some slight strengthening is possible. However, once it enters the Gulf of Mexico it will enter an environment with warm waters and weaker upper level winds and strengthening into a hurricane is expected. The National Hurricane Center mentions that some rapid strengthening could be possible as Laura passes over the warm, deep waters of the Gulf Stream and Loop Current in the southeastern Gulf. Laura will start to turn northwest heading into Wednesday and eventually north. On this track, Laura will make landfall near the Texas/Louisiana border sometime Wednesday night or early Thursday. Right now, the forecast has it as a Category 2 hurricane with 105 mph winds as of that time. Weakening will occur as the system moves inland across portions of the Mississippi, Tennessee, and Ohio River Valleys. It is important not to focus on the direct track of Laura or the intensity forecast. This is partly due to track errors that can still occur this far out, but it is also due to the hazards expected with Laura (including winds, storm surge, and heavy rain/flooding) extending farther from the center versus just directly along the track of the center. Facilities along the northwestern Gulf Coast should be preparing for a landfalling hurricane later this week.
---
Tropical Storm Alerts. Tropical Storm Warnings remain in place this morning across portions of the Caribbean into the Florida Keys. It is likely that Hurricane and Storm Surge Watches will be issued for portions of the northwestern Gulf Coast by this evening. Here are where Tropical Storm Warnings are in place this morning:
* Little Cayman and Cayman Brac
* Cuban provinces of Camaguey, Las Tunas, Holguin, Guantanamo, Santiago de Cuba, Granma, Ciego De Avila, Sancti Spiritus, Villa Clara, Cienfuegos, Matanzas, Mayabeque, La Habana, Artemisa, Pinar del Rio, and the Isle of Youth
* Florida Keys from Craig Key to Key West
* Dry Tortugas
---
Heavy Rain Potential. Heavy rain is likely along the track of Laura over the next several days, with at least 4-10" of rain across portions of Jamaica, Cuba, and west-central Gulf Coast. This rain could lead to life-threatening flash and urban flooding, as well as river flooding. In the Greater Antilles, it could also lead to mudslides. Here is a look at potential rainfall totals through Tuesday from the National Hurricane Center:
Jamaica and Cuba: 4 to 8 inches, with maximum amounts of 12 inches.
Cayman Islands: 2 to 4 inches, maximum amounts of 6 inches.
Florida Keys, Turks and Caicos Islands, and the Northwest Bahamas: 1 to 2 inches.
From late Wednesday into Friday, Laura is expected to produce rainfall of 5 to 10 inches, with isolated maximum amounts of 15 inches across portions of the west-central U.S. Gulf Coast near the Texas and Louisiana border north into portions of the lower Mississippi Valley.
---
Tropical Storm Force Winds. Tropical storm force winds (39+ mph) will continue to spread across the western Greater Antilles and the Florida Keys today as Laura continues to move to the west-northwest. Tropical storm force winds will be possible across portions of the northern/northwestern Gulf Coast as soon as Tuesday evening and Wednesday morning with Laura, but more likely as we head into the day Wednesday as Laura approaches.
---
Lake Charles, LA, Wind. As Laura approaches the coast late Wednesday into Thursday, wind speeds will ramp up in Lake Charles, reaching tropical-storm-force by the evening hours and peaking potentially over 100 mph during the overnight hours before decreasing as the system pushes north.
---
Laura Storm Surge. Storm surge will continue to be a concern along the Louisiana coast as Laura approaches, with some areas potentially seeing an inundation of over a half a foot, especially on the east side of the center near where Laura makes landfall and if it occurs around high tide. As mentioned above, Storm Surge Watches could be issued later today ahead of Laura along the coast.
---
Western Wildfires
Western Fires Continue. Numerous wildfires continue to burn across the western United States, with evacuations in place and poor air quality due to the smoke. In Colorado, the Pine Gulch fire, burning 18 miles north of Grand Junction, has burned 129,715 acres and is 44% contained. Thunderstorm outflows are the major weather that has been impacting the fire with gusts over 30 mph. The Grizzly Creek Fire, burning near Glenwood Springs, has burned 30,362 acres and is 30% contained. Out in California, about two dozen major incidents/complexes continue to burn. Some of the worst fires can be found in the Bay Area. Highlighting some of those fires:
The SCU Lightning Complex Fire is burning in several locations across five counties: Santa Clara, Alameda, Contra Costa, San Joaquin, and Stanislaus. This complex is compiled of about 20 fires in three zones which have merged into two major fires. Numerous evacuation orders are in place across the region. This complex of fires had burned 343,965 acres and was 10% contained. This would place this fire at the third largest in California history. More information from Cal Fire: https://www.fire.ca.gov/incidents/2020/8/18/scu-lightning-complex/
The LNU Lightning Complex fires (including the Hennessey, Wallbridge and Myers fires) has burned 347,630 acres and is 15% contained. Numerous evacuation orders and warnings remain in place. This would place this fire as the second largest in California history. Significant fire growth is expected to continue. The largest fire of this complex is the Hennessey, which contains multiple merged fires, on the north side of Lake Berryessa. That fire alone has burned 290,102 acres and 22% contained. More information from Cal Fire: https://www.fire.ca.gov/incidents/2020/8/17/lnu-lightning-complex-includes-hennessey-gamble-15-10-spanish-markley-13-4-11-16-walbridge/
The CZU Lightning Complex Fire in southern San Mateo and northern Santa Cruz counties consists of multiple large fires that have merged. The complex has burned 74,000 acres and is 8% contained. Approximately 77,000 people have been evacuated. The fire continues to actively burn above the marine layer. Evacuation orders are in place. More information from Cal Fire: https://www.fire.ca.gov/incidents/2020/8/17/czu-lightning-complex-including-warnella-fire/
More information on fires in California can be found from Cal Fire: https://www.fire.ca.gov/incidents/
More information on Colorado and other western wildfires can be found from InciWeb: https://inciweb.nwcg.gov/?state=6
---
Fire Weather And Air Quality Concerns. Fire Weather Warnings (pink) are in place across the region over the next few days as we watch the potential for gusty winds, low humidity values, and dry thunderstorms (storms that contain lightning but no rain). These conditions would allow new or ongoing wildfires to quickly spread. The smoke from wildfires are also causing air quality concerns, with Air Quality Alerts (gray) in place.
---
Typhoon Bavi
Bavi Track. We are also watching Typhoon Bavi, which is expected to move through the East China Sea and Yellow Sea over the next few days. This storm is expected to strengthen into a storm with 125 mph sustained winds late Wednesday/early Thursday as the system tracks west of Seoul, moving inland across portions of North Korea and quickly weakening. This system will bring heavy rain and strong winds to the region over the next few days.
D.J. Kayser, Meteorologist, Praedictix.
---
Study Quantifies Potential Covid-19 Spread from Hurricane Evacuation. Sheltering people (safely) during a hurricane proves non-trivial, according to a paper summarized at Columbia University's State of the Planet: "…Under the worst-case scenario the authors considered, if people followed historic evacuation patterns and virus transmission rates increased by 20 percent in their destination counties, there would be roughly 61,000 additional COVID-19 cases in the origin and destination counties combined. Under the best-case scenario, if people instead evacuated to communities with low COVID-19 transmission rates and transmission rates did not increase in the destination counties, there could be as few as 9,100 additional cases resulting from the evacuation. The scientists said they hope the study will help inform the work of emergency managers and other local decision makers, as well as federal and state agency staff as the hurricane season progresses…"
Image credit: "September 2019, four cyclones line up in the Western Hemisphere." (NASA)
---
---
Floodlines. The Gulf Coast is in serious trouble. Rising seas, coupled with increasingly intense hurricanes, is inundating coastal properties and (increasingly) submerging communities well inland. Check out an amazing podcast from The Atlantic. Here's an excerpt of Part 1: "...In the 1850s, southern Louisiana had the highest concentration of millionaires in the country. The Last Island hurricane had killed a lot of them. The idea of doomed grand balls and final pageants of the plantation aristocracy, it was all so tragic and romantic. But I don't really care about that part. I just can't stop thinking about Richard. The Last Island hurricane was a Category 4 storm when it hit. It's been called the "first great storm" in the recorded history of Louisiana. It seems like every generation has one: 1893, 1915, 1947. Each with their stories and their myths. Each with their Richards. The last big storm in New Orleans was Hurricane Betsy, 1965. And then, for 40 years, it was quiet…"
---
Fires Burning in California Already Among Worst in History. And a story at Buzzfeed points out we are only at the beginning of the traditional fire season in the western USA: "…As the fires continue to prompt evacuation order after evacuation order, firefighting experts and scientists say 2020 already looks far worse than 2017 and 2018. University of California, Berkeley, professor Michael Gollner, who studies wildland fires, explained that while the state has seen these types of large fires before, the size and scale of the simultaneously burning blazes are "shocking and remarkable" and highlight the dramatic impacts of changing climate. In 10 days, the LNU and SCU complexes have already become some of the largest the state has ever seen. Normally, these types of fires are caused by or worsened by intense winds, but Gollner told BuzzFeed News that they "didn't happen under the highest wind conditions..."
---
California Wildfires Can Create Their Own Terrifying Weather. WIRED.com delves into fire weather, and how massive blazes can ignite new blazes scores of miles downwind: "…These wildfires even create their own weather, further changing wind patterns. "They get so big that they can create their own sorts of weather patterns because of all the heat and moisture release," says Nick Nauslar, a meteorologist at the National Interagency Coordination Center, which helps mobilize resources for wildfires in the US. "And you get a very turbulent environment. Winds become erratic and also stronger than they normally would be, because you've just put this huge fire in a complicated landscape." Think about a campfire: As the fire heats the air, it rises up through the treetops, carrying smoke and embers with it. Now, scale that up into a fire that's consuming a whole landscape..."
---
Tracking Smoke From Western Wildfires. NOAA has tools to be able to track current and future smoke over time. That milky-white sky overhead? Smoke from hundreds or even thousands of miles away.
Image credit: NOAA, showing expected smoke density midday on Tuesday. Here's another way to visualize the spread of smoke.
---
Want to Save Lives? Name Heat Waves Like Hurricanes. A post at WIRED.com (paywall) makes a solid case, but it won't be easy to pull off: "…But it won't be easy to get heat wave names and rankings off the ground. Simon Mason, a senior research scientist at the International Research Institute for Climate and Society at Columbia University, said that while hurricanes can be easily categorized according to their wind speeds, extreme heat is more complicated. For example, he explained, temperatures in the triple digits may be tolerable in Arizona, where humidity is low, while 90-degree temperatures on the East Coast with high humidity could be deadly. Heat wave severity can also vary depending on what a community is used to experiencing…"
---
"Iowa's Katrina": Help is Slow to Come for Storm-Battered State. This Washington Post story ran last week, but I wanted to amplify what's happening just to our south in terms of storm relief: "A week after a devastating wind storm ripped through a swath of the Midwest, thousands in Iowa remain without power, corn and soybean plants lie bent and broken in the fields, and anger is rising among residents who say state officials and Republican Gov. Kim Reynolds did not seek aid quickly enough in the powerful storm's aftermath. Hurricane-force winds gusting up to 112 mph in the rare derecho storm flattened 37 million acres of crops and damaged many homes and businesses, according to the U.S. Department of Agriculture..."
Photo credit: "A downed power line in Cedar Rapids, Iowa, the epicenter of damage from a derecho with hurricane-force winds that left thousands without power." (KC McGinnis for The Washington Post)
---
Why Derechos Are So Devilishly Hard to Predict. Some context from WIRED.com was helpful in explaining why these freakish wind storms are so difficult to predict days in advance: "…And unlike the path and severity of hurricanes, which scientists have gotten good at forecasting days or even weeks in advance, predicting where and when a derecho will form remains one of the most challenging tasks facing meteorologists. The difficulty comes down to two things: patchy data and the complexity of the storm itself. Derechos can arise at random, almost out of nowhere, says Victor Gensini, a meteorology professor at Northern Illinois University. On many days during the year, the ingredients are all present for a derecho—but they're missing something to start the storm. "In other words," he says, "you need a trigger…"
---
Place Your Bets. We will have winter, but how much snow and cold? The Old Farmer's Almanac has a new outlook summarized here: "Winter in Minnesota will be "cold" with "above normal snowfall," according to a new prediction from the Farmers' Almanac. "Snow will be abundant" for the upper Midwest." Meanwhile, not to be outdone, The newly released Farmer's Almanac makes this claim: "The Great Lakes region will get its fair share of snow but expect above-normal snowfall if you live in the western Dakotas, northern portions of Colorado and Utah, as well as Wyoming, Montana, Idaho, and central and eastern sections of Washington and Oregon…"