Extended Outlook Calls for More Mosquitoes. "When the facts change, I change my mind. What do you do sir?" economist John Maynard Keynes dryly observed. We have the freedom to change our minds. I have more respect for people who change their minds based on new evidence, rather than digging in their heels and cherry-picking data to support an opinion. Based on a wealth of evidence, the climate is warming, and new research shows mosquito season at MSP has grown from 114 days in the 1980s to 120 days in the 2010s. If anyone asks (doubtful) mosquitoes survive best between 50-95F, with a humidity above 42 percent.
---
More Mosquito Days. A warming climate has some interesting (and itchy) consequences. Climate Central explains: "It's the curse of summer weather: just as you start to relax outside, you feel a telltale tickle on your ankle. You swat the air but it's already too late—another mosquito bite. While most are just an itchy nuisance, mosquito-borne diseases are an increasing risk in the United States. And as the climate warms, mosquito seasons are getting longer in much of the country. According to studies from the National Institutes of Health, mosquitoes survive best at temperatures between 50-95°F and a relative humidity of 42% or more. Climate Central counted these "mosquito days" each year for 239 locations in the contiguous U.S., updating our 2016 analysis with a newer dataset. We found that 64% of sites recorded an increase from the 1980s to the 2010s—outnumbering those with a decrease by about 2 to 1…"
---
---
Temperature Recovery by Mid-August? After a cool spell next week GFS guidance suggests a warming trend by the second week of August. We'll see more 80s, and I suspect we haven't seen the last of the 90s.
---
Briefing: Issued Wednesday morning, July 29th, 2020:
Potential Tropical Cyclone Nine is moving across the Leeward Islands this morning with heavy rain and gusty winds. As of 5 AM AST, Nine had winds of 45 mph.
This system is still expected to become Tropical Storm Isaias later today as it moves off to the west-northwest. This will bring the storm in the vicinity of the Virgin Islands and Puerto Rico tonight and Hispaniola Thursday with some additional strengthening. Once it reaches Hispaniola, weakening is expected due to land interaction.
This system then could impact the Turks and Caicos, Bahamas, and Cuba through the end of the week and approach Florida this weekend.
Numerous Tropical Storm Watches and Warnings are in place for this system stretching from the Lesser Antilles to the southeastern Bahamas.
---
Potential Tropical Cyclone Nine. The system we are watching remains a Potential Tropical Cyclone this morning. However, with a burst of convection ongoing near the expected center of the storm this could become Tropical Storm Isaias later today (90% chance). As of the 5 AM AST update, Potential Tropical Cyclone Nine had sustained winds of 45 mph with tropical-storm-force winds extending about 275 miles from the center of the system. Antigua had a wind gust of 47 mph earlier this morning. The system was moving west-northwest at 23 mph and the supposed center of the storm was 5 miles south of Dominica or 385 miles east-southeast of San Juan, Puerto Rico.
---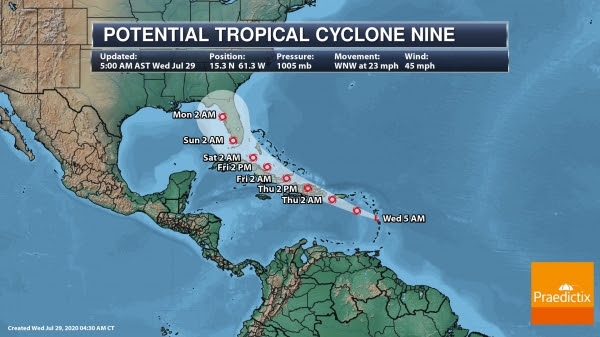 Expected Track. There are still questions to the overall track and strength forecast with this system as we still do not have that defined center. On that note, it is expected that this system will become Tropical Storm Isaias later today in the eastern Caribbean. A track to the west-northwest is expected over the next couple of days, bringing the storm in the vicinity of the Virgin Islands and Puerto Rico tonight, Hispaniola Thursday, and the southeastern Bahamas Friday. This could then impact portions of Florida this weekend with strong winds and heavy rain. Some strengthening is expected today and tonight before the storm starts to interact with land – especially the high mountains of Hispaniola – which is expected to cause some weakening Thursday. While the system will take some time to recover after passing over Hispaniola, some re-strengthening is expected late this week into the weekend. However, upper level winds are expected to increase in the Straits of Florida that could help limit that potential. Again, a lot of questions to the overall future of this system, but facilities from the Leeward Island to Florida should continue to monitor this system and be prepared ahead of it.
---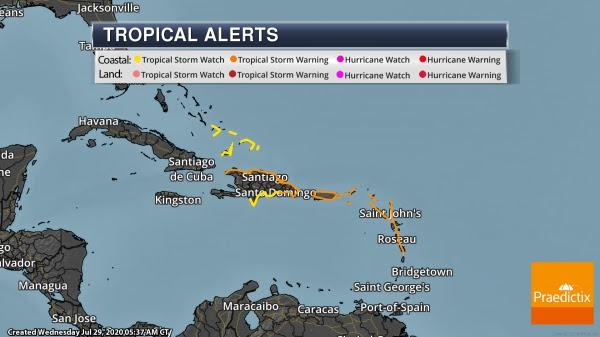 Tropical Storm Watches and Warnings. Ahead of this system, several government authorities have issued numerous Tropical Storm Watches and Warnings. The following alerts are in place:
Tropical Storm Warning
* Puerto Rico, Vieques, Culebra
* U.S. Virgin Islands
* British Virgin Islands
* Antigua, Barbuda, Montserrat, St. Kitts, Nevis, and Anguilla
* Guadeloupe, Martinique, St. Martin, and St. Barthelemy
* Saba and St. Eustatius
* St. Maarten
* Dominica
* Dominican Republic from Cabo Caucedo eastward to Cabo Engano andthen westward along the northern coast to the Dominican Republic/Haiti border
* North coast of Haiti from Le Mole St Nicholas eastward to the northern border with the Dominican Republic
Tropical Storm Watch
* Dominican Republic from the southern Haiti border eastward to Cabo Caucedo
* Turks and Caicos Islands
* Southeastern Bahamas
---
Earliest Arrival Of Tropical Storm Winds. As this system continues west to west-northwest, the earliest tropical storm winds could arrive across the Virgin Islands and Puerto Rico later today into tonight, across Hispaniola tonight into midday Thursday, the Turks and Caicos, Bahamas and Cuba Thursday into Friday, and portions of Florida Friday Night into the weekend. The arrival of tropical storm force winds could make any preparations ahead of the storm difficult to complete once they do arrive.
---
Heavy Rain Potential. Heavy rain is still expected with this storm over the next several days that could lead to life-threatening flash flooding and mudslides across portions of the Caribbean. Here are expected rainfall amounts according to the National Hurricane Center:
Across the northern Leeward Islands, British and U.S. Virgin Islands: 3 to 6 inches.
Across Puerto Rico: 3 to 6 inches, with isolated maximum totals of 10 inches.
Across the Dominican Republic, northern Haiti and the Turks and Caicos: 3 to 6 inches, with isolated maximum totals of 8 inches.
Across the Inagua Islands: 4 to 8 inches, with isolated totals of 12 inches.
D.J. Kayser, Meteorologist, Praedictix
---
Searching for Best Practices: Hurricane Evacuations During a Pandemic. I wrote a post on the challenges involved for Medium; here's an excerpt: "…Flynn is focused not only on fine-tuning evacuation orders, but rethinking sheltering options. Besides the use of facemasks and other protective measures, the actual spacing and capacity inside shelters will have to be recalculated with virus in mind, he explained. "I have heard of creative sheltering spaces besides the usual schools," he said. "One example could be the use of approved and willing hotels, and perhaps other community buildings out of harm's way." Thinking outside the box, school or auditorium this hurricane season may be key to lowering risk from an inevitable parade of tropical systems, set against an anxious backdrop of virus concerns. Accurate hurricane predictions from NHC will be more mission-critical than ever..."
Hurricane Florence file image: NASA.
---
What Happens When a Hurricane Hits a Coronavirus Hot Spot? South Texas Cities Found Out the Hard Way. KSAT.com in San Antonio has the story.
---
9 Hurricanes are Forecast As Part of a Worse Than Normal 2020 Hurricane Season. Here's an excerpt from a timely post at Forbes: "…The figure above shows the historical average number of named tropical cyclones by day of the year. You can see this year we are tracking at the top edge of the highest count by day. For the past 5 decades of satellite data, this is the highest number of named storms at this point in the season. Abnormally warm sea surface temperatures in the Atlantic Ocean and optimal atmospheric conditions lead to an optimal environment for hurricane formation. Sea surface temperatures in the ocean above 80°F / 27°C is optimal for storm development as the warm water evaporates and provides moisture and energy in the atmosphere, promoting storm growth…"
Image credit: "2020 Hurricane Season named storms compared to historical." NASA.