Tracking "Isaias" "Nature has a myriad of weapons to combat human arrogance" wrote film director Wayne Gerard Trotman. Tell me about it. From Texas-size hurricanes to invisible, microscopic viruses. We delude ourselves into thinking we're in charge – but nature always bats last. "Isaias" is forecast to remain a tropical storm as it churns up the east coast of Florida; hurricane-force gusts are possible Saturday, with moderate coastal erosion and inland flooding from Florida to the Carolinas. Isaias is the earliest 9th storm on record. This may be an intense hurricane season, made much worse by the pandemic.
---
August: Nearly as Hot as July? The maps (in this case GFS guidance at 500mb) still looks stinking-hot for most of America, although northern tier states will cool off from time to time. The Heat Wave of '20 shows no sign of quitting anytime soon.
---
Briefing: Issued Thursday, July 30th, 2020:
Potential Tropical Cyclone Nine became Tropical Storm Isaias last night and is expected to cross Hispaniola today into tonight. As of 11 AM AST, this system had winds of 60 mph and was moving to the northwest at 20 mph.
Once Isaias crosses Hispaniola, strengthening is expected into the first half of the weekend as the system continues to the northwest. This system will approach the Florida east coast as we head late Saturday into Sunday potentially nearing hurricane strength.
The system will then turn north and northeast into next week, riding the Southeast and Mid-Atlantic coast through Tuesday.
---
Tropical Storm Isaias. Potential Tropical Cyclone Nine was upgraded to Tropical Storm Isaias in the Caribbean Sea last night and continues to move off to the northwest this morning. As of the 11 AM AST update from the National Hurricane Center, Isaias had winds of 60 mph and was moving to the northwest at 20 mph. The center of the storm was located 50 miles southwest of Punta Cana in the Dominican Republic, or 165 miles southeast of Puerto Plata in the Dominican Republic. Already heavy rain has occurred across Puerto Rico over the past 24 hours with some rain gauges reporting 4-8″+ across the island. This has led to the potential of flash flooding, with several Flash Flood Warnings in place.
---
Large Wind Field. The current tropical storm wind field (39+ mph) associated with Isaias is quite large and mainly to the north side of the system. Tropical storm winds extend out 310 miles from the center. Punta Cana in the Dominican Republic had a wind gust of 60 mph around 9 AM.
---
Expected Track. Isaias is not expected to strengthen much today as the system approaches and crosses over the higher terrain of Hispaniola. We will have to see what that does to the system, as there are some indications that the center of low pressure could (or currently is trying to) reform near the northern side of the Dominican Republic. After that center reforms, strengthening is expected as the system moves off to the northwest into the weekend before a turn to the north and northeast by early next week. On this track, Isaias would pass near the Florida and Southeastern U.S. coast through the weekend into early next week. There are still questions to the potential intensity of this storm, as some model guidance do have this strengthening to a Category 1 hurricane as it nears the United States. We will know more after it passes over Hispaniola.
---
Tropical Storm Watches and Warnings. Ahead of this system, several government authorities have issued numerous Tropical Storm Watches and Warnings. While there are currently no watches in place across the Southeastern United States, I would expect some to be issued later today or tonight if the current forecast path holds. The following alerts are in place:
Tropical Storm Warning
* Puerto Rico, Vieques, Culebra
* U.S. Virgin Islands
* Dominican Republic entire southern and northern coastlines
* North coast of Haiti from Le Mole St Nicholas eastward to thenorthern border with the Dominican Republic
* Turks and Caicos Islands
* Southeastern Bahamas including the Acklins, Crooked Island, LongCay, the Inaguas, Mayaguana, and the Ragged Islands
* Central Bahamas, including Cat Island, the Exumas, Long Island,Rum Cay, and San Salvador
Tropical Storm Watch
* Northwestern Bahamas including Andros Island, New Providence, Eleuthera, Abacos Islands, Berry Islands, Grand Bahamas Island, and Bimini.
---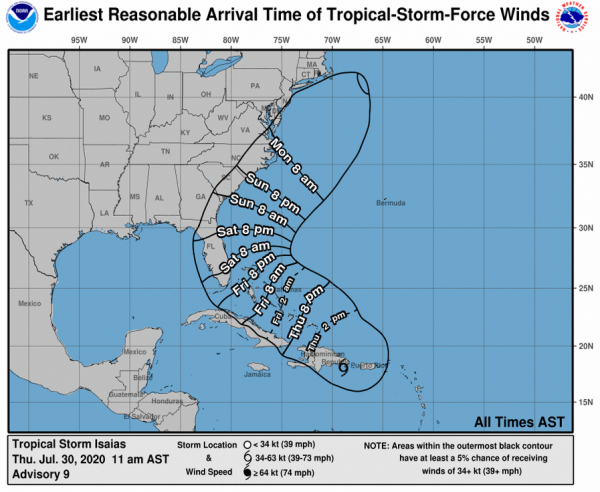 Earliest Arrival Of Tropical Storm Winds. As this system continues west to west-northwest the next couple of days, the earliest tropical storm winds could arrive across the Turks and Caicos, Bahamas and Cuba is later today into Friday and across portions of Florida Friday Night into Saturday. As the system turns north/northeast, tropical-storm-force winds will be possible across the eastern Carolinas Sunday into Sunday Night. The arrival of tropical storm force winds could make any preparations ahead of the storm difficult to complete once they do arrive.
---
Melbourne, FL, Wind Gusts. Wind gusts will pick up Saturday Night in Melbourne, FL, as Isaias passes near the Florida coast. The current forecast does show the potential of tropical storm and hurricane-force winds Saturday Night into Sunday, peaking shortly after sunrise Sunday. As the system moves northward, winds would be on the decrease Sunday. Of course, the strength of this system still depends on several factors, including the passage over Hispaniola today.
---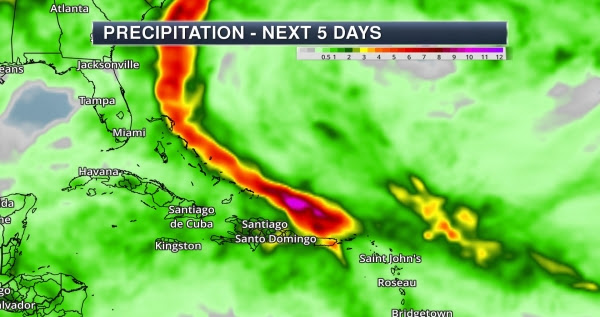 Heavy Rain Potential. Heavy rain is expected with this storm over the next several days that could lead to life-threatening flash flooding and mudslides across along the track of Isaias. Here are expected rainfall amounts according to the National Hurricane Center:
Puerto Rico, Dominican Republic and northern Haiti: 4 to 8 inches,with isolated maximum totals of 10 inches.
Bahamas, Turks and Caicos: 4 to 8 inches.
Cuba: 1 to 2 inches, with isolated maximum totals of 4 inches.
D.J. Kayser, Meteorologist, Praedictix
---
What Happens When a Hurricane Hits a Coronavirus Hot Spot? South Texas Cities Found Out the Hard Way. KSAT.com in San Antonio has the story.
---
9 Hurricanes are Forecast As Part of a Worse Than Normal 2020 Hurricane Season. Here's an excerpt from a timely post at Forbes: "…The figure above shows the historical average number of named tropical cyclones by day of the year. You can see this year we are tracking at the top edge of the highest count by day. For the past 5 decades of satellite data, this is the highest number of named storms at this point in the season. Abnormally warm sea surface temperatures in the Atlantic Ocean and optimal atmospheric conditions lead to an optimal environment for hurricane formation. Sea surface temperatures in the ocean above 80°F / 27°C is optimal for storm development as the warm water evaporates and provides moisture and energy in the atmosphere, promoting storm growth…"
Image credit: "2020 Hurricane Season named storms compared to historical." NASA.
---
Baghdad Soars to 125F, Shattering All-Time Record. Capital Weather Gang has the story: "Record high temperatures have been plaguing the Middle East, the mercury soaring to extreme levels during a blistering and unforgiving heat wave. Baghdad surged to its highest temperature ever recorded Tuesday. Tuesday's preliminary high of 125.2 degrees (51.8 Celsius) in Iraq's capital city shatters its previous record of 123.8 degrees set on July 30, 2015, for any day of the year. On Wednesday, Baghdad followed up with a temperature of 124 degrees, its second-highest temperature on record. On Monday, it had reached 123 degrees…"
Image credit: "High pressure brought extreme temperatures to Iraq on Tuesday. This map shows where the core of high pressure was located." (WeatherBell)
---
Better Information, and More Of It, Can Improve Driver Safety on Flooded Roads. Here's the intro to an interesting post from NOAA's Climate.gov: "Driving a car in the rain is challenging and dangerous enough. But what if flash floods disrupt traffic and damage roadways? The decision to drive through floodwaters or pursue a safer path is complex. New NOAA-funded research finds that a multitude of cultural and situational factors, including official warning messages, influence motorist decisions in these situations. This cartoon illustrates some of the information and influences, cultural and official, that drivers say influences them as they decide how to handle flooded roads, according to the results of the study. Official signs with messages like "Road May Flood" are influential, as are cultural cues like belief in trucks and SUVs' ability to safely pass floodwaters. Drivers also seek more information about their environment, such as possible detours..."