Hurricane Laura Threatens Gulf Coast
"The first rule of hurricane coverage is that every broadcast must begin with palm trees bending in the wind" wrote author Carl Hiaasen. True. And frantic TV reporters hunkered down on the beach.
Hurricane Laura is forecast to come ashore late tonight, perilously close to Houston. The storm is passing over warm water, jet fuel for hurricanes. It may roar ashore with 115 mph winds and a basketball-hoop-high
storm surge of over 10 feet.
You can't blame Houstonians for being paranoid. 3 years ago "Harvey" dropped 60 inches of rain, leaving behind $125 billion in damage. It was the third 500-year flood in 3 years.
---
Hurricane Laura Briefing issued Tuesday evening, August 25:
Hurricane Laura Slowly Strengthening in the Gulf of Mexico. The storm is still ragged and disorganized after tracking over Cuba, but rapid intensification is likely during the day Wednesday as Laura passes over water temperatures ranging from 86-87F. With light winds aloft conditions are ripe for Laura to strengthen into a Category 2-3 storm by the time it comes ashore late Wednesday night or Thursday morning.
---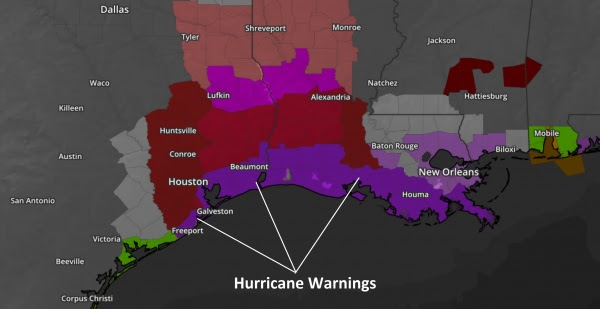 Hurricane Warnings. NOAA has posted Hurricane Warnings from Freeport and Galveston Bay into much of the Louisiana coastline. A direct hit on New Orleans is unlikely, and (relatively new) levees should hold, but street flooding is likely with disruption to travel and commerce. Right now the area most threatened by a powerful storm surge is just east of Galveston and Houston (southwest Louisiana will most likely bear the brunt of Laura's fury) but it's too early to let our guard down for metro Houston. Image: AerisWeather.
---
National Hurricane Center Track. NHC is predicting that Laura will strengthen into a Category 3 storm with sustained winds near 115 mph by the time it comes ashore during the wee hours of Thursday morning. From there it will weaken rapidly, capable of street and stream flooding as far inland as Shreveport, Little Rock and Louisville later in the week.
---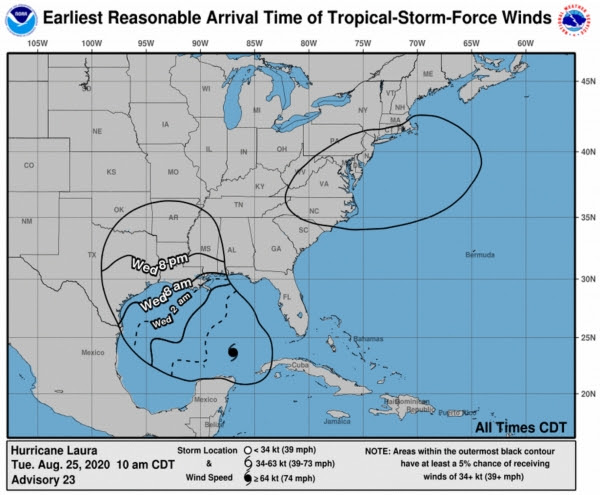 Arrival of Tropical Storm Force Winds. Sustained winds may exceed 39 mph as early as sunrise Wednesday morning along the Texas and Louisiana coastline, with the brunt of the storm's wind, rain and storm surge arriving Wednesday night. Image: NHC.
---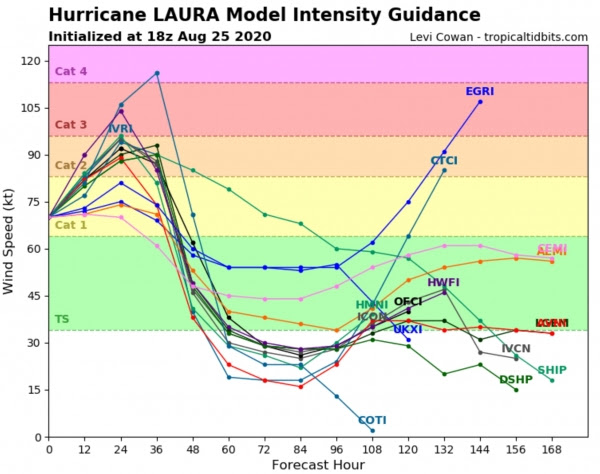 Models: Category 2-3 Intensity. There is rough model consensus for a strong Category 2 or weak Category 3 hurricane, but recent storms (Michael comes to mind in October of 2018) have intensified rapidly before coming ashore, due to the availability of warm/deep water just offshore. The same last-minute strengthening may take place with Laura. Graphic: tropicaltidbits.com
---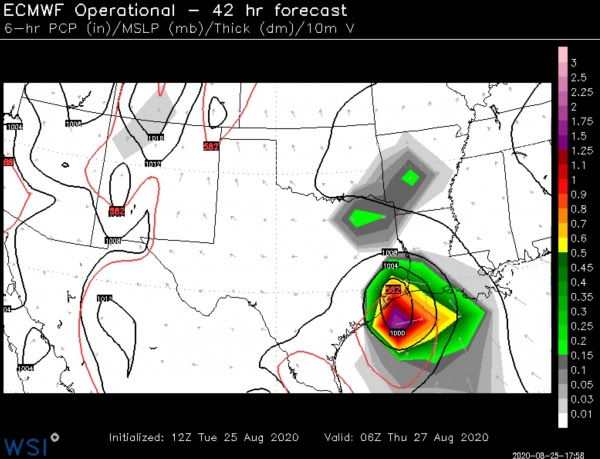 ECMWF Prediction. The "European" model is often more accurate with track position than other models, and it shows landfall very close to Houston shortly after midnight Wednesday night. Keep in mind the worst winds and storm surge take place in the eastern quadrant of the storm, but even though the overall threat is greater for Port Arthur and Lake Charles, Houston may experience significant damage and disruption from this storm. Image credit: WSI.
---
High-Res ECMWF. Again, landfall (just) east of Galveston and Houston, but a very close call, with the worst damage expected closer to the Texas/Louisiana state line. Remember, a westward jog of only 75-100 miles would put Houston in the crosshairs of a very dangerous hurricane. Odds still favor that Houston won't experience a direct hit, but the margin for error is small, and I would err on the side of caution and safety in preparing Houston facilities for Laura. Image credit: pivotalweather.com.
---
NOAA HWRF Model. NOAA's models are also bringing the center of the storm ashore east of Houston, but there has been a slow westward migration in predicted tracks over time. We'll see if that trend continues, but the very worst of the storm surge may impact Port Arthur and Beaumont, Texas. Image: WeatherBell.
---
Laura Threats. NHC has a good visual showing the various threats from Laura, including peak winds (upper left), storm surge (upper right), flooding rain (lower left) and tornadoes (lower right). The risk of embedded tornadoes in the spiral bands is greatest across Louisiana Wednesday and Wednesday night. Image credit: NOAA NHC.
---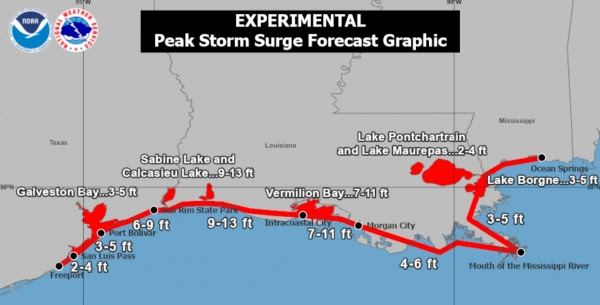 Potential Storm Surge. A surge of 3-5 feet above normal is still a very significant rise in water for Galveston Bay, but the combined effect of wind, water, low pressure and slope of the land offshore will carve out the highest surge along coastal Louisiana, where at 9-13 foot rise in water is possible as the eye of the storm comes ashore Wednesday night.
---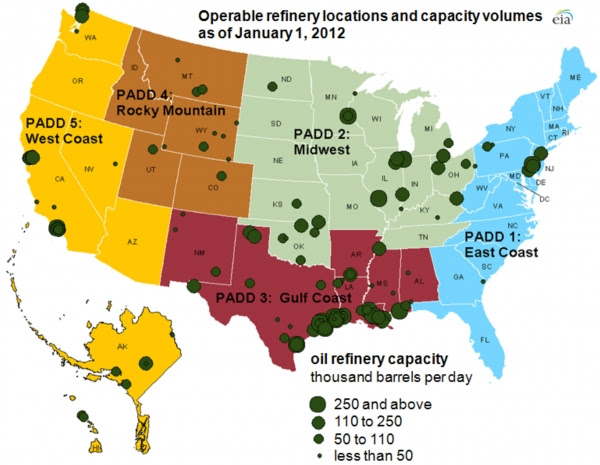 Very Significant Risk to Oil Infrastructure. Coastal Texas and Louisiana has refining and drilling operations vulnerable to Laura's storm surge. I expect moderate to major disruption to operations, possibly impacting the availability and cost of gasoline for weeks to come. Image credit: EIA.
---
Heaviest Rain Potential. With landfall expected just east of Houston Wednesday night models show the heaviest rains (4-7″+) across far eastern Texas and much of Louisiana and Arkansas, where inland flooding, hundreds of miles from the coast, is expected. Image credit: pivotalweather.com.
Yesterday marked the third anniversary of Hurricane Harvey, which dumped 60″ of rain east of Houston, creating over $125 billion in damage. In contrast, Hurricane Laura will move quickly – there are no indications the storm will stall – and that will limit destruction due to rainfall. The greatest risk posed by Laura is a devastating storm surge and swarms of tornadoes in the spiral bands feeding the storm.
Again, right now Laura does not look like a worst-case scenario for metro Houston, but the predicted track is much too close for comfort, and there will be significant damage and disruption in the greater Houston area tomorrow into Thursday.
Another update Wednesday morning. Be safe out there.
Paul Douglas
Senior Meteorologist, Praedictix
---
How Earth-Orbiting Satellites are Tracking the 2020 Hurricane Season. Space.com has some interesting perspective: "…Organizations like NOAA use Earth-orbiting satellites to monitor weather and storms like hurricanes here on Earth. Among others, NOAA uses Geostationary Operational Environmental Satellites, or GOES, which orbit at the same speed of Earth's rotation 22,300 miles (35,888 kilometers) above our planet's equator. "Our satellites give us a large-scale view" of the Earth that can see everything from the big to the small, Yoe said. He added that with these observations, scientists and forecasters can fully see the conditions in which hurricanes form. Yoe added that NOAA has recently made a number of enhancements and improvements to their existing satellites…"
---
Study Quantifies Potential Covid-19 Spread from Hurricane Evacuation. Sheltering people (safely) during a hurricane proves non-trivial, according to a paper summarized at Columbia University's State of the Planet: "…Under the worst-case scenario the authors considered, if people followed historic evacuation patterns and virus transmission rates increased by 20 percent in their destination counties, there would be roughly 61,000 additional COVID-19 cases in the origin and destination counties combined. Under the best-case scenario, if people instead evacuated to communities with low COVID-19 transmission rates and transmission rates did not increase in the destination counties, there could be as few as 9,100 additional cases resulting from the evacuation. The scientists said they hope the study will help inform the work of emergency managers and other local decision makers, as well as federal and state agency staff as the hurricane season progresses…"
Image credit: "September 2019, four cyclones line up in the Western Hemisphere." (NASA)
---
---
Scientists Create Most Detailed Tornado Simulations
. Here's a clip from
The National Science Foundation
: "…
How do tornadoes form? What ingredients do they require? And can they be predicted early enough to provide timely warnings to the public? These are all open questions. "For about two out of three times when there's a tornado warning issued, there's no tornado," said Leigh Orf, a U.S. National Science Foundation-funded atmospheric scientist at the University of Wisconsin-Madison. "We need to do better for people to heed these warnings." Overall, the physics of tornadoes is well understood, but the small-scale aspects of their formation and how they are maintained within supercell thunderstorms require more research. Tornadoes cannot be fully studied in a laboratory, however, and field research on these rare, isolated events is difficult to plan. "We don't have remote sensing technology that can capture the dynamics and physics of full storms with the needed resolution to get to the bottom of their mysteries," Orf said
…"
Image credit: "The vorticity field of a multiple-vortex EF5 tornado embedded in a supercell thunderstorm."
---
Floodlines. The Gulf Coast is in serious trouble. Rising seas, coupled with increasingly intense hurricanes, is inundating coastal properties and (increasingly) submerging communities well inland. Check out an amazing podcast from The Atlantic. Here's an excerpt of Part 1: "...In the 1850s, southern Louisiana had the highest concentration of millionaires in the country. The Last Island hurricane had killed a lot of them. The idea of doomed grand balls and final pageants of the plantation aristocracy, it was all so tragic and romantic. But I don't really care about that part. I just can't stop thinking about Richard. The Last Island hurricane was a Category 4 storm when it hit. It's been called the "first great storm" in the recorded history of Louisiana. It seems like every generation has one: 1893, 1915, 1947. Each with their stories and their myths. Each with their Richards. The last big storm in New Orleans was Hurricane Betsy, 1965. And then, for 40 years, it was quiet…"
---
What it Takes to Verify the Hottest Temperatures on Earth. One heavy-duty weather station. The Verge explains: "…To vet the Death Valley temperature, the WMO will first need to bring together an international team of top scientists. They're given a background report to examine that includes details on the location where the temperature was recorded, the type of equipment used, regional weather conditions during the time of the observation, and any other pertinent information. There are strict standards for how temperatures should be taken. For example, the sensor needs to be shaded and lifted above the ground to avoid getting an observation that's misleadingly hot. Over the years, the process for vetting weather extremes has become more rigorous. A new step was added last year: transporting the equipment that took the observation to a lab to test it..."
Image credit: "The instrument that took the reading of 130 degrees Fahrenheit at Furnace Creek, Death Valley, on August 16th." NOAA.
---
Fires Burning in California Already Among Worst in History. And a story at Buzzfeed points out we are only at the beginning of the traditional fire season in the western USA: "…As the fires continue to prompt evacuation order after evacuation order, firefighting experts and scientists say 2020 already looks far worse than 2017 and 2018. University of California, Berkeley, professor Michael Gollner, who studies wildland fires, explained that while the state has seen these types of large fires before, the size and scale of the simultaneously burning blazes are "shocking and remarkable" and highlight the dramatic impacts of changing climate. In 10 days, the LNU and SCU complexes have already become some of the largest the state has ever seen. Normally, these types of fires are caused by or worsened by intense winds, but Gollner told BuzzFeed News that they "didn't happen under the highest wind conditions..."
---
California Wildfires Can Create Their Own Terrifying Weather. WIRED.com delves into fire weather, and how massive blazes can ignite new blazes scores of miles downwind: "…These wildfires even create their own weather, further changing wind patterns. "They get so big that they can create their own sorts of weather patterns because of all the heat and moisture release," says Nick Nauslar, a meteorologist at the National Interagency Coordination Center, which helps mobilize resources for wildfires in the US. "And you get a very turbulent environment. Winds become erratic and also stronger than they normally would be, because you've just put this huge fire in a complicated landscape." Think about a campfire: As the fire heats the air, it rises up through the treetops, carrying smoke and embers with it. Now, scale that up into a fire that's consuming a whole landscape..."
---
Tracking Smoke From Western Wildfires. NOAA has tools to be able to track current and future smoke over time. That milky-white sky overhead? Smoke from hundreds or even thousands of miles away.
Image credit: NOAA, showing expected smoke density midday on Tuesday. Here's another way to visualize the spread of smoke.