Like climate change, coronavirus often doesn't hit home until it…hits home. One of my nieces at a big eastern university caught Covid-19 (she's fine). My 91 year old mother-in-law, Josephine, also caught the virus and recovered. Her grandkids call her "Nana", which is ironic.
So far this year in the Atlantic we've had a Tropical Storm Josephine and a Tropical Storm Nana.
65-70 percent of hurricane season is ahead of us, with only 6 names remaining on the list. At this rate we may have to start over with the Greek alphabet. The last time that happened was 2005, the year Katrina hit New Orleans.
---
Image credit: World Meteorological Office.
---
Frequent Cool Frontal Passages Northern Tier of USA. The heat goes on into at least the third week of September for much of the south, but the maps are looking increasingly cool 2 weeks out from the Upper Mississippi Valley into the Great Lakes.
---
---
Predicting Peak Fall Foliage. This is different, a tool to predict (based on historical data) when peak color will come across the USA. Details via Mental Floss: "...Fall foliage normally peaks some time after the autumnal equinox, which falls on September 22 in 2020, but exactly when depends on variables like rainfall and temperature. Each year, the tourism website SmokyMountains.com looks at weather forecasts and historical trends from NOAA and puts together an interactive map showing when foliage is predicted to peak across the contiguous U.S…"
Map credit: smokymountains.com.
Briefing: Issued Wednesday, September 2nd, 2020:
---
Active In The Atlantic
---
Tropical Storm Nana. Tropical Storm Nana formed midday Tuesday in the Caribbean and has continued to strengthen and move westward. This system is expected to become a hurricane later today or tonight. As of the 8 AM EDT update from the National Hurricane Center, the center of Nana was located 150 miles northeast of Limon, Honduras, or 305 miles east of Belize City, Belize, and the system was moving west at 18 mph. Nana had sustained winds of 60 mph and tropical-storm-force winds were possible up to 70 miles from the center. Nana will continue to move west/west-southwest through Thursday with a decrease in forward speed. This will bring Nana near the northern coast of Honduras today and approach Belize tonight into Thursday. As mentioned, Nana will continue to strengthen and is expected to be a hurricane before landfall with weakening occurring after landfall. This storm is likely to bring strong winds to portions of northern Central America and southern Mexico, as well as a dangerous storm surge of 3-5 feet along the coast near where Nana makes landfall and rainfall amounts of at least 3-8" of rain.
---
Hurricane Watches. Ahead of Nana, we are tracking Hurricane Watches along the entire Belize coast. Here's where Tropical Storm and Hurricane alerts are in place:
A Hurricane Watch is in effect for…
* Entire coast of Belize
A Tropical Storm Warning is in effect for…
* Yucatan Mexico from Puerto Costa Maya to Chetumal
* Entire coast of Belize
A Tropical Storm Watch is in effect for…
* Northern coast of Honduras from Punta Patuca westward to the Guatemala border
* Roatan Island and the Bay Islands of Honduras
* Caribbean Sea coast of Guatemala
---
---
Tropical Storm Omar. Fifteen became Omar late yesterday afternoon but the system is continuing to fight against strong upper level winds. As of 5 AM AST, the center of Omar was located about 350 miles northwest of Bermuda and moving east-northeast at 14 mph. Omar had winds of 40 mph. Omar will continue to move westward over the next few days, far to the north of Bermuda, and eventually become a remnant low and dissipate late this week or early in the weekend. This system continues to be no threat to land.
---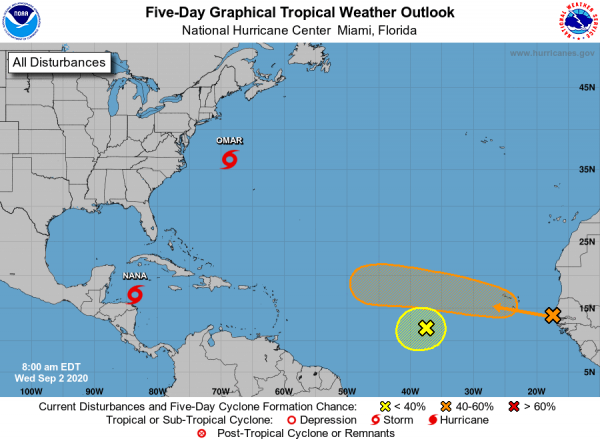 Tracking Tropical Waves. We are also tracking two tropical waves out in the Atlantic. The lead wave, midway between the Windward Islands and western Africa, is disorganized but some development is possible. Formation chances sit at 30% in the next five days. The second wave has emerged off Africa and gradual development is expected as we head toward the weekend. Five day tropical formation chances sit at 60%.
---
Heavy Central U.S. Rain
Life-Threatening Flash Flooding Possible. A somewhat stalled out boundary continues to sit across portions of the Southern Plains this morning, helping to set up another round of heavy rain and life-threatening flash flooding across the region today. After rounds of heavy rain across portions of Arkansas over the past several weeks, including rain from Laura, the ground is quite saturated, and it will not take much additional rainfall to cause flash flooding. Due to this, a High Risk of Flash Flooding is in place across portions of west-central Arkansas with a Moderate Risk of Flash Flooding stretching from northern Texas to central Arkansas. A High Risk means that significant flash flooding is likely.
---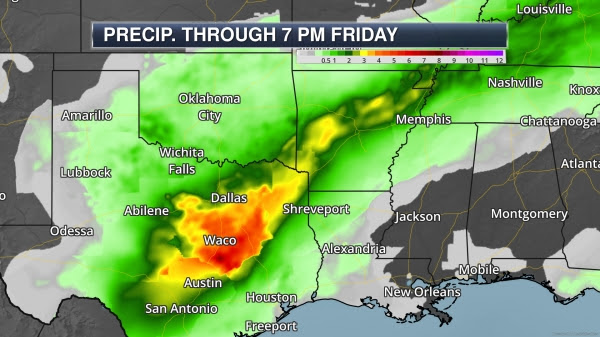 ---
Additional Rain And Flash Flood Watches. With heavy rainfall rates and multiple rounds of storms possible, additional rainfall amounts of at least 2-4" are possible over through the end of the week across the region. Some of the heaviest rain today will be possible in Arkansas and northern Texas, with heavy rain possible in central Texas continuing into Thursday and Friday. Flash Flood Watches are in place from Texas to southeastern Missouri.
---
Heat Concerns
Excessive Heat Watches. Excessive heat concerns will once again develop heading into the Labor Day weekend across the Southwest, as Excessive Heat Watches stretch from northern California to southern Arizona. Highs in the 90s and 100s are expected across the region and could lead to heat related illnesses for those working outside or participating in outdoor activities. Here are when these Excessive Heat Watches are in place across portions of the region as well as expected highs into the weekend:
Phoenix and Las Vegas: Friday through Monday
Los Angeles and San Diego: Saturday through Monday
Sacramento: Saturday through Tuesday
---
---
Maysak And Haishen
---
Tracking Maysak. Maysak is preparing to make landfall over the next several hours across the southern Korean Peninsula. This system has undergone some weakening on approach, containing 115 mph winds as of the 3 PM local time update. Maysak will continue to weaken as it moves across the Korean Peninsula through Thursday but will bring heavy rain and strong winds to the region, including to Seoul.
---
---
Tracking Haishen. Unfortunately, it looks like another typhoon could impact the Korean Peninsula heading into next week, as we are also tracking Typhoon Haishen, located about 385 miles south of Iwo To and moving to the west at 12 mph. It is expected to slowly strengthen over the next few days as it eventually turns to the northwest and north-northwest, with winds of 140 mph possible by Saturday and maintaining that strength into Sunday. While it appears that some weakening will occur toward landfall along the Korean Peninsula late this weekend into early next week, winds are forecast to be still around 90 mph at the Monday 3 PM forecast point just south of Seoul. We will continue to track Haishen over the next several days to see if a third typhoon in a three-week time frame impacts the Korean Peninsula.
D.J. Kayser, Meteorologist, Praedictix.
---
Can a Bubble Net Stop a Hurricane? Some Norwegians Think So. Color me skeptical. And let's hold off on nuking hurricanes, for now. Here's a clip fro WIRED.com (paywall): "…The latest scheme—this one from Norway—proposes stretching a submerged "bubble net" across the path of an oncoming storm. To OceanTherm CEO Olav Hollingsæter, a hurricane's swath of destruction could be slowed or even avoided using a technique that has kept Norwegian fjords ice-free since the late 1960s. Imagine a long, thin, flexible pipe stretched between two ships. The pipe is moored a few hundred feet below the surface, like an upside-down shower curtain. A massive stream of bubbles escapes from the pipe, forming a frothy white current as it rises to the surface. That might give you an idea of what the creators of this project are envisioning. (Or perhaps just think of a giant aquarium bubbler.)…"
Image credit: NASA.
---
---
---
National Hurricane Center's Messaging Likely Saved Lives During Hurricane Laura. I couldn't agree more with Dr. Marshall Shepherd, posting at Forbes: "…Appropriate balance in weather messaging is critical to maintaining credibility with the public. However, it is important to recognize that fatality numbers may be low because of effective warnings and outstanding predictions. I observed this same phenomenon with COVID-19 early in the pandemic. Naysayers argued that case numbers were inflated, and social distancing mandates were too harsh. They pointed to numbers in decline, but overlooked that the decline was related to the social distancing and mask wearing policies. I am sure there is some psychological concept that describes this tendency, but that is a discussion for a different day. For now, I just wanted to thank the National Hurricane Center. Even as I write this, they are still dealing with the remnants of Hurricane Laura..."
---
The Biblical Flood That Will Drown California. A story from Mother Jones and WIRED.com (paywall) won't make the California Chamber of Commerce very happy; here's an excerpt: "…Yet in modern-day California—a region that author Mike Davis once likened to a "Book of the Apocalypse theme park," where this year's wildfires have already burned 1.4 million acres, and dozens of fires are still raging—the nearly forgotten biblical-scale flood documented by Brewer's letters has largely vanished from the public imagination, replaced largely by traumatic memories of more recent earthquakes.When it was thought of at all, the flood was once considered a thousand-year anomaly, a freak occurrence. But emerging science demonstrates that floods of even greater magnitude occurred every 100 to 200 years in California's precolonial history. Climate change will make them more frequent still..."
File image: NOAA.
---
---
Does Warm Weather Impact Covid-19? There are no conclusive results (that I'm aware of) that indicate that hot weather reduces the odds of infection. Big Think analyzes some of the factors in play: "…One factor, according to Sciencing, that may increase your susceptibility in cold weather is how your sinuses respond to the humidity and temperature changes. Your nose is a natural air filter for your body. When you spend time in cold temperatures, your nasal passages dry out due to the constriction of blood vessels…One common reason why virus infections may become more common during cold months is that more people are spending time indoors (and together). As research has determined, social distancing can heavily impact the spread of the COVID-19 virus. Being clustered closer together indoors can increase the likelihood of transmission, giving the effect of the virus spreading faster in the colder months…"
File image: CDC.