Volatile Mid-Month Pattern? I'm seeing a few models with a large closed ("cut-off") low over the nation's midsection by mid-September, and confidence levels are low that the pattern envisioned by the GFS model (above) will actually verify. One things is certain: near-record heat will continue to bake much of the southern USA for much of September.
---
Briefing: Issued Tuesday, September 1st, 2020:
Atlantic Heating Up Again:
---
---
Tropical Depression Fifteen. Fifteen formed late yesterday afternoon off the Southeastern United States coast and is sitting about 100 miles southeast of Cape Hatteras this morning (as of 5 AM ET). The good news is this system is heading out into the Atlantic, moving away from the Mid-Atlantic today and moving north of Bermuda through the middle of the week. This system is not expected to strengthen much and may not even become a tropical storm.
---
---
System In The Caribbean. We are also watching a system in the Caribbean which does not have a well-defined center. However, ships have indicated that tropical-storm-force winds are occurring on the north side of the wave. As this system continues to move westward, a tropical depression or storm could form as conditions become a little more favorable for development, and an Air Force Reserve reconnaissance aircraft is on the way to investigate. Chances sit at 80% of formation at the moment. This system looks to be moving toward Nicaragua, Honduras, Belize, Guatemala, and the Yucatan Peninsula with heavy rain and strong winds later this week, and at the moment it doesn't appear like it will be a threat to the United States.
---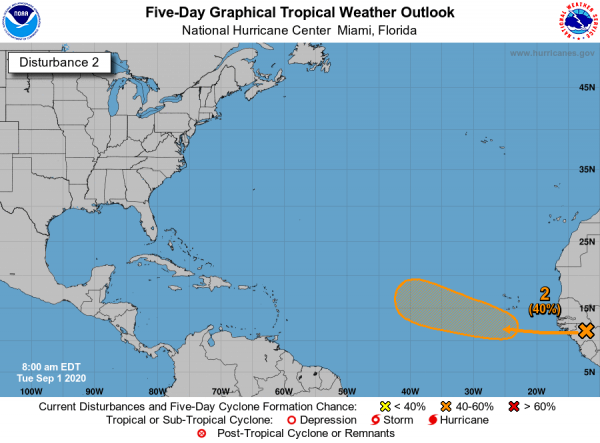 Next Wave To Watch. We also have an eye on a wave that will move off Africa in the next couple of days. We could see gradual development later in the week once it moves into the Atlantic, and there is currently a 40% chance of formation in the next five days.
---
Heavy Rain Central U.S.
---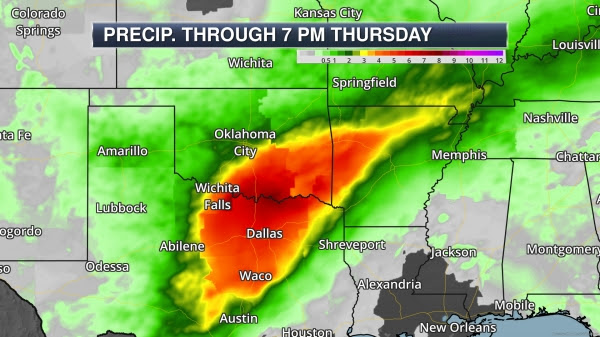 Heavy Rain Threat. As a stalled out boundary sits across portions of the Southern Plains through the middle of the week, rounds of heavy rain are expected – particularly from Texas to Missouri. In some areas from western Arkansas to northern Texas up to 6" of rain could fall through Thursday evening, prompting a flood threat across the region. Some of these areas, especially in western Arkansas, have received heavy rain over the past month (including from Laura last week) meaning the ground is already saturated. Flash Flood Watches are in place across parts of northern Texas (including Dallas and Wichita Falls), Oklahoma (including OKC), and Arkansas (including Little Rock and Fort Smith). Already this morning numerous Flash Flood Warnings have been in place from south of Oklahoma City into western Arkansas due to heavy rain from the overnight hours.
---
Heat Concerns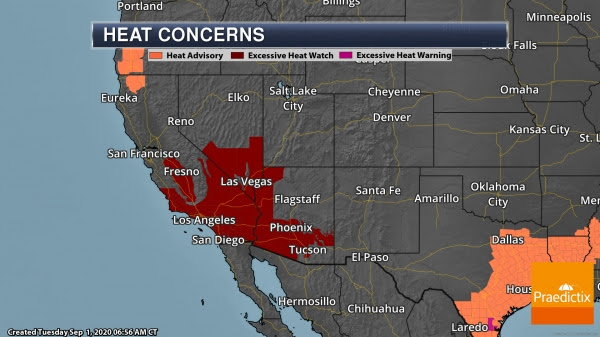 ---
Excessive Heat Watches. Heat concerns develop once again heading into the Labor Day weekend across portions of the Southwest, with Excessive Heat Watches in place for Phoenix and Las Vegas from Friday through Monday and for both Los Angeles and San Diego from Saturday through Monday. Highs in the 90s and 100s are expected across the region and could lead to heat related illnesses for those working outside or participating in outdoor activities. Heat also continues today in the Southern Plains, including areas of Louisiana hard hit by Laura last week.
---
Typhoon Maysak
---
Tracking Maysak. Typhoon Maysak is near peak strength this morning U.S. time with winds of around 145 mph – the equivalent of a Category 4 hurricane. The center was 545 miles south-southwest of Busan, South Korea, and moving north at 6 mph. Some weakening is expected over the next day to day and a half as Maysak approaches the southern coast of the Korean Peninsula, with winds of 115 mph south of South Korea Wednesday afternoon (local time) and winds of 90 mph as it moves across central South Korea early Thursday morning. This could be one of the strongest typhoons to hit South Korea in recorded history, according to Yale Climate Connections (https://yaleclimateconnections.org/2020/08/typhoon-maysak-could-become-one-of-south-koreas-strongest-typhoons-on-record/). The strongest on record was Typhoon Maemi in 2003 with a pressure of 950 mb. Maysak could have a pressure of 935-945 mb near landfall.
---
Wind Gust Potential. Strong winds can be expected across much of South Korea Wednesday Night into early Thursday as Maysak approaches and makes landfall. The strongest winds are still expected across eastern South Korea, where wind gusts over 120-130 mph will be possible. Wind gusts of at least 40-70 mph will be possible in Seoul.
---
Heavy Rain Threat. Flooding will be possible as heavy rains of at least 4-15" could fall across much of South Korea as Maysak moves through. This will likely cause flooding in some locations, especially since South Korea already observed a longer and wetter monsoon season than normal with June 1-August 15 nationwide averaged rain that was approximately 14" above average according to Yale Climate Connections.
D.J. Kayser, Meteorologist, Praedictix
---
---
National Hurricane Center's Messaging Likely Saved Lives During Hurricane Laura. I couldn't agree more with Dr. Marshall Shepherd, posting at Forbes: "…Appropriate balance in weather messaging is critical to maintaining credibility with the public. However, it is important to recognize that fatality numbers may be low because of effective warnings and outstanding predictions. I observed this same phenomenon with COVID-19 early in the pandemic. Naysayers argued that case numbers were inflated, and social distancing mandates were too harsh. They pointed to numbers in decline, but overlooked that the decline was related to the social distancing and mask wearing policies. I am sure there is some psychological concept that describes this tendency, but that is a discussion for a different day. For now, I just wanted to thank the National Hurricane Center. Even as I write this, they are still dealing with the remnants of Hurricane Laura..."
---
Why Hurricane Storm Surges are So Dangerous. National Geographic delves into the multiple risks posed by a sudden rise in water ahead of a hurricane's eye: "…When a storm surge reaches land, the wall of waves can rush miles inland, battering anything in its path. Under the weight of that water—approximately 1,700 pounds per cubic yard—beaches erode and buildings can crumble. Storm surges can also flood inland rivers and lakes, contributing to billions of dollars of flood damage. Most sobering, however, is the human loss attributed to storm surges. A 2014 article in the Bulletin of the American Meteorological Society found that storm surges accounted for nearly half of all Atlantic tropical hurricane deaths from 1963 to 2012, mainly due to drowning..."
Graphic credit: NOAA.
---
Tales From The Storm: How Four Scientists Tracked Hurricane Laura. Here's an excerpt of an interesting post at Science AAAS: "...In the days before the storm hit land, aerospace engineer Nick Underwood of the National Oceanic and Atmospheric Administration (NOAA) was part of a team that tracked the developing storm from the air, aboard a propeller-driven P-3 Hurricane Hunter specially outfitted to fly into big storms and collect troves of data. When Laura made landfall, weather researcher Sean Waugh of NOAA's National Severe Storms Laboratory in Norman, Oklahoma, was there to greet the hurricane as part of a mobile data-collecting team that deployed sensor-laden vehicles to the Gulf Coast to get an up-close look. Farther afield, atmospheric scientist Phil Klotzbach of the University of Colorado, Boulder, who helps build storm forecasting models, watched the storm unfold his home in the San Francisco Bay area, tracking numerous streams of real-time data and sharing his insights on social media…"
Photo credit: "Buildings and homes are damaged in the aftermath of Hurricane Laura on 27 August near Lake Charles, Louisiana." AP Photo/David J. Phillip.
---
America is Being Pummeled by Disasters. A story at The Atlantic caught my eye: "…A hurricane, a season of fire, poisoned air, skin-boiling heat, treacherous winds, ruined crops, a time of poverty and disease—is this our lot? Is this our future? It seems facile to point out the role climate change has played in intensifying these disasters. Almost unnoticed among the calamities last month: July 2020 was the hottest July ever recorded in the Northern Hemisphere. In our warmed climate, Category 4 storms like Laura are more common, and they are likely to bring more rainfall. Climate change leads to hotter days and longer heat waves. And the type of fires that have raged in California this month—summertime forest fires—consume eight times more acreage now than they did in the 1970s. What's more, the area they burn increases exponentially in relation to climate change, so every degree of warming induces much larger fires than the degree before it…"
File image: NOAA.
---
The Biblical Flood That Will Drown California. A story from Mother Jones and WIRED.com (paywall) won't make the California Chamber of Commerce very happy; here's an excerpt: "…Yet in modern-day California—a region that author Mike Davis once likened to a "Book of the Apocalypse theme park," where this year's wildfires have already burned 1.4 million acres, and dozens of fires are still raging—the nearly forgotten biblical-scale flood documented by Brewer's letters has largely vanished from the public imagination, replaced largely by traumatic memories of more recent earthquakes.When it was thought of at all, the flood was once considered a thousand-year anomaly, a freak occurrence. But emerging science demonstrates that floods of even greater magnitude occurred every 100 to 200 years in California's precolonial history. Climate change will make them more frequent still..."
File image: NOAA.
---