Climate refugees? Maybe Bangladesh or the Maldive Islands in the Pacific, but here in the U.S.?
As a warming climate makes naturally-occurring fires, floods and hurricanes more intense experts predict a slow-motion migration away from high risk areas in the south and west.
A recent story at The New York Times outlines the trends and predictions: s many as 13 million Americans could be forced to move away from submerged coastlines. 28 million Americans may face "mega-fires" as summers heat up, making work outside increasingly difficult. Access to clean, reliable water will be a major theme of the 21st century. Many of these people will be moving north. Oddly enough, Minnesota may benefit from a flight to cooler climes.
---
Smoky Skies: September 13-15, 2020. The Minnesota DNR has more perspective on our recent run-in with smoke from western fires: "Smoke from western wildfires cause filtered sunshine over Minnesota. Smoke and haze from the wildfires over California, Oregon and Washington drifted over Minnesota and was the thickest from the September 13th to the 15th, 2020. The smoke was at higher elevations and did not affect visibility near the ground. The visibility at the Twin Cities International Airport was ten miles for the whole period. The sun appeared as a pale disk at times and had some spectacular orange and red hues closer to sunset. The smoke did cut down a bit on solar radiation. Looking at the graph included with this article, a perfectly sunny day for mid-September would have peak hourly average solar radiation around 1.1 Langleys per minute..."
Image credit: NOAA.
---
Hottest Summer on Record. Minnesota experienced the 4th warmest and 17th wettest meteorological summer on record. For a broader scope Climate Central has details: "…Summer 2020's heat is one for the record books. It was the fourth-hottest summer on record for the contiguous U.S. and third-hottest June-August period globally. Many cities in the Southwest, Southeast, Mid-Atlantic, and Northeast either broke or tied their records for their hottest summer to date. Investigating this further, Climate Central uncovered that summer 2020 was within the top 10 hottest summers for 37% (452) of 1,203 cities analyzed, and 55 cities had their hottest summer on record…"
---
---
---
Briefing: Issued Wednesday, September 16th, 2020:
Hurricane Sally
Big Headline: Sally strengthened overnight before making landfall near Gulf Shores, AL, as a Category 2 hurricane with winds of 105 mph around 4:45 AM. Sally will weaken as it slowly moves inland today, but will continue to produce very heavy rain, life-threatening flooding, and dangerous storm surge.
---
---
Hurricane Sally. As mentioned above, we did see some strengthening overnight as Sally approached the Gulf Coast, becoming a Category 2 hurricane with winds of 105 mph before the system made landfall near Gulf Shores, AL, at 4:45 AM. This morning we did see a wind gust to 99 mph at Dauphin Island, AL, a 93 mph gust at a University of Florida weather tower in Gulf Shores, a gust of 86 mph at the Pensacola Naval Air Station, and a gust of 81 mph in Mobile. As of the 7 AM CDT update from the National Hurricane Center, Sally still had winds of 100 mph. The center of circulation was located 15 miles north-northeast of Gulf Shores, AL, or 25 miles west-southwest of Pensacola, FL, and the system was moving north-northeast at 3 mph.
---
Sally Track. Sally will continue to slowly move inland today to the north-northeast, weakening as it does so. As we head into tonight, we should see a forward increase in speed and the system moving more northeast. On this track, Sally will move across portions of the western Florida Panhandle and southern/eastern Alabama today into early Thursday, moving across Georgia Thursday into Thursday Night, and then across South Carolina Friday. Sally will weaken into a tropical storm later today or early tonight, then into a tropical depression by Thursday afternoon. This system should be a remnant low over South Carolina Friday before dissipating. This system will continue to produce strong winds (especially near the Gulf Coast), very heavy rain, potentially life-threatening flooding, and dangerous storm surge.
---
Hurricane Alerts. Hurricane and Tropical Storm Warnings are still across portions of Mississippi, Alabama, and the Florida Panhandle due to Sally. Along the coast, they include the following areas:
A Hurricane Warning is in effect for…
* Mississippi/Alabama border to the Okaloosa/Walton County line, Florida
A Tropical Storm Warning is in effect for…
* East of the Okaloosa/Walton County line Florida to Indian Pass, Florida
* Mississippi/Alabama border to the Mouth of the Pearl River
Cities that are under Hurricane Warnings include Mobile and Pensacola. Cities under Tropical Storm Warnings include Biloxi, Dothan, and Panama City.
---
Additional Heavy Rain. The slow-moving nature of Sally will continue to lead to very heavy rain across the central Gulf Coast. Additional rainfall amounts today of 8-12" are expected from west of Tallahassee to Mobile Bay, where storm total rains of 10-20" (isolated 35") are expected. This will lead to major (potentially historic) flooding across the region. As Sally turns northeast, the storm is expected to produce the following rain amounts, which could lead to flooding:
Southern and central Alabama to central Georgia: 4-8", isolated 12"
Western South Carolina into western and central North Carolina: 4-6", isolated 9"
Southeast Virginia: 2-5", isolated 7"
---
Historic Flooding Expected. Due to the heavy rain and widespread flash flooding expected with Sally today along portions of the Gulf Coast, a High Risk of Flash Flooding has been issued by the Weather Prediction Center. Rainfall rates of 3-4"+ are expected within the eyewall and feeder bands, which will continue to bring the threat of major, historic, and catastrophic flooding. The threat of flooding will continue to move inland with Sally through the end of the week.
---
Flood Watches.  Flood Watches extend from the north-central Gulf Coast into southern Virginia due to Sally and the expected rain with the system over the next few days.
---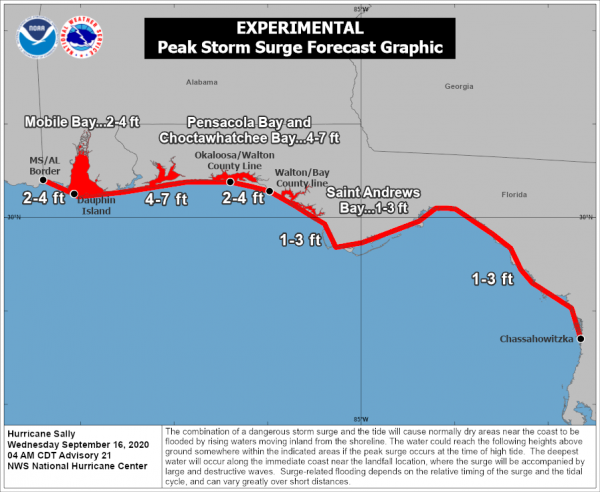 ---
Dangerous, Life-Threatening Storm Surge Expected. A dangerous and life-threatening storm surge is still possible with Sally along the northern Gulf Coast today. The highest storm surge today of 4-7 feet is expected to occur near and to the east of where landfall occurred from the Alabama/Florida border to Okaloosa/Walton County, FL, including Pensacola Bay and Choctawhatchee Bay if the peak surge occurs at high tide. Large waves and the expected heavy rain adding more water to the region could also worsen some of the storm surge impacts. High tide today occurs either late in the morning hours or early in the afternoon. In Pensacola Bay, high tide today is at 11:08 AM. Storm Surge Warnings remain in place from Dauphin Island, AL, to the Walton/Bay County Line, FL.
---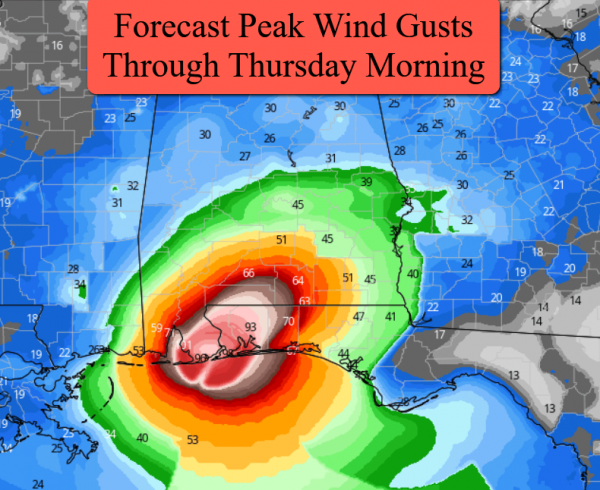 Peak Wind Forecast. The strongest winds – topping hurricane force – will be across southern Alabama and the western Florida Panhandle today (particularly this morning). As Sally continues to move inland, the winds with Sally will weaken.
---
Tornado Watch. Landfalling tropical systems typically produce tornadoes, and due to that threat a Tornado Watch is in place across southern Alabama, the Florida Panhandle, and southwestern Georgia through 6 PM CDT.
---
Other Tropical Activity
---
Other Tropical Activity. We are also watching the following systems in the Atlantic:
Hurricane Paulette: Paulette is still a strong system out in the Atlantic and is expected to become post-tropical later today. While it is currently a fish storm, this system is producing waves estimated at 51 feet near the center according to the Ocean Prediction Center. This system could approach the Azores late this week/early this weekend.
Hurricane Teddy: Teddy quickly strengthened overnight into a Category 2 hurricane and is expected to become a Category 4 hurricane with 130 mph winds later this week. Models have moved westward with the track of Teddy, and this does increase the threat for Bermuda late this weekend into early next week.
Tropical Storm Vicky: Vicky is expected to weaken over the next few days and does not pose a threat to land through the end of the week.
We are also tracking a few areas of interest that could form into tropical systems. There is one in the Gulf of Mexico that is becoming a little better organized. A tropical depression could form over the southern Gulf of Mexico this weekend as the system meanders across the region (60% chance in the next five days). We are also watching an area of low pressure south-southeast of the Cabo Verde Islands which has a high (70%) chance of formation in the next five days.
---
Western Wildfires
Fire Danger And Air Quality Concerns. A Fire Weather Warning (pink) remains in place today across portions of Oregon and northern California due to low humidity values and wind gusts to 35 mph which will allow wildfires to spread quicker. As we head into Thursday, numerous Fire Weather Watches (tan area) are in place from California and Oregon into the Great Basin due to stronger wind gusts and continued low humidity values and dry conditions. Air Quality Alerts (gray) remain in place across the western United States due to the smoke from the wildfires reducing air quality across the region, with Dense Smoke Advisories (khaki) in place as well due to the smoke.
---
Hazardous Air Quality This Morning. We continue to track unhealthy to hazardous air quality across portions of the western United States due to all the wildfire smoke in the air.
---
Air Quality Forecast. Unhealthy to hazardous air quality is expected to continue across the region today.
D.J. Kayser, Meteorologist, Praedictix
---
---
---
---
---
But Wait, There's More! Hurricane Teddy is forecast to become a Category 4 weather-monster, come close to Bermuda, and then track northwestward, according to (often reliable) ECMWF guidance. It's still way too early for specifics with a projected landfall in Maine or the Canadian Maritimes. But keep an eye on "Teddy".
---
Go Away 2020. And now a "medicane" is threatening southern Greece with tropical-storm like conditions. Here's more information from Greek Reporter: "…This sudden shift in the weather pattern is occurring just as experts are monitoring the possibility of a rare hurricane-like storm in the Mediterranean, dubbed a "Medicane." This type of storm, composed of a cluster of thunderstorms, occurs once or twice a year, although it rarely impacts the eastern Mediterranean. Like hurricanes, Μedicanes feature strong winds that circle around a center-point, or eye. They are often accompanied by heavy rain. However, they are usually are a great deal weaker than true Atlantic-spawned hurricanes. These storms usually form in fall or early winter, when waters are relatively warm and provide energy to thunderstorms which are brewing above…"
---
5 Ways to Help Victims of West Coast Fires. Mental Floss has some timely links: "Wildfires continue to ravage millions of acres across California, Oregon, and Washington, and strong winds forecasted in some of those regions could aggravate the blazes. To prevent future fires, we need to focus on combating climate change through policy reform and sustainable living. But for people directly affected by the fires, their current needs are much more urgent: food, shelter, and funds. Here are five organizations that can help you help victims..."
File image credit: American Red Cross.
---
NOAA: Hottest Summer on Record for North America. The symptoms of a warming world are probably not a coincidence, according to NOAA: "…According to scientists at NOAA's National Centers for Environmental Information, the average global land and ocean surface temperature in August was 1.69 degrees F (0.94 of a degree C) above the 20th-century average of 60.1 degrees F (15.6 degrees C), making it the second-hottest August in the 141-year record, behind August 2016. The Northern Hemisphere had its hottest August on record with a temperature departure from average of 2.14 degrees F (1.19 degrees C), besting the previous record set in August 2016. Globally, the 10 warmest Augusts have all occurred since 1998 — with the five warmest occurring since 2015..."
---
Tracking Smoke. NOAA has an online tool that pinpoints fire locations and smoke. Yesterday's orange sun was a direct result of the massive amount of smoke being thrown off by western fires.
---
NOAA Declares La Nina Watch. Every La Nina and El Nino cycle is different, but based on a cooling trend in the Pacific Ocean the odds of an (easy/mild) winter for Minnesota and northern tier states has dropped a few notches. Here's an explainer from Capital Weather Gang: "…NOAA forecasters have stated there is a 75 percent chance that La Niña will stick around for the entirety of winter. Generally speaking, La Niña typically increases the odds of above-average snowfall in the Pacific Northwest, northern Plains, Great Lakes region and northern New England. However, every La Niña is different, and other weather patterns can overwhelm its effects…"
Map credit: NOAA's Climate.gov.
---
Wildfires During Pandemic Intensify Economic Pain in West. Associated Press has perspective: "…The fires are unlikely to make much of a dent in the overall $20 trillion U.S. economy. The financial fallout will be measured in the low billions of dollars, not in hundreds of billions or trillions. To make a nationwide impact, Kamins said, it would take something like Hurricane Katrina in 2005, which disrupted oil supplies. But the economic pain will be intense in areas decimated by fire, especially poor towns in rural Oregon and California, piling on at a time when many businesses have already succumbed to the pandemic-induced recession. U.S. economic activity collapsed at a record 31.7% annual pace from April through June..."
File image: NOAA.
---
California's Wildfire Smoke Plumes are Unlike Anything Previously Seen. Capital Weather Gang points out some of the unique (and vaguely terrifying) meteorological observations of this new breed of wildfire: "…The Creek Fire, which has burned nearly 200,000 acres in the Sierra Nevada mountains, was only 6 percent contained on Friday. On Sept. 5, a day after it was first ignited, its smoke plume soared to 55,000 feet. That's taller than many of the tornadic thunderstorms that roll across Oklahoma and Kansas each spring. Such clouds are both indicators of and contributors to extreme fire behavior, such as rapid fire spread and the formation of fire vortices including tornadoes, along with other dynamics that are hazardous to firefighters and can imperil communities..."
---
Evolution of a Pyrocumulonimbus Cloud. NASA has a great explainer; here's an excerpt: "…The huge, dense cloud created on Sep. 05 and seen in the Suomi NPP image was a pyrocumulonimbus cloud (pyroCb) and the resulting smoke plume that grew upward was spotted and confirmed on Sep. 06, 2020. A pyrocumulonimbus cloud is also called a cumulonimbus flammagenitus. The origins of the latter word are from the Latin meaning "flame" and "created from." This perfectly describes a cloud that is caused by a natural source of heat such as a wildfire or volcano. Rising warm air from the fire can carry water vapor up into the atmosphere causing clouds. Any type of convective cloud can be created. In this case, the cumulonimbus, or thunderhead cloud, was created. Precipitation and lightning can also occur with these types of clouds creating a risk that the fire will expand due to increased wind from precipitation downdraft or by creating new fires due to lightning strikes..."
Image credit: "This series of GIF images shows the development of the Creek fire from Sep 5 through Sep 7, 2020." Credits: NASA Worldview
---
NOAA's Former Satellite Now Providing Weather Data to the U.S. Military. SpaceNews explains whatever happened to GOES-13: "The U.S. Space Force announced that a geostationary weather satellite previously owned by the National Oceanic and Atmospheric Administration is now in service for the military providing coverage over the Indian Ocean. A satellite that NOAA first launched in 2006 and retired in 2018 has been repurposed as the Electro-Optical Infrared Weather System – Geostationary, or EWS-G1. The Space Delta 2 at Peterson-Schriever Garrison, Colorado, declared the satellite operational on Sept. 1. NOAA is operating EWS-G1 for the military collecting weather imagery over the Indian Ocean region in support of U.S. Central Command…"