2020: A Disruptive Year For Weather Too
"There are two ways to be fooled. One, to believe what isn't true. The other is to refuse to believe what is true" wrote 19th century Danish philosopher Soren Kierkegaard. The way 2020 is turning out it's tempting not to believe our eyes or ears some days.
Meteorologists are paying attention to a firehose of freakish weather, tracking volcano-like plumes of smoke and ash from western fires. 140 mph wind gusts from an Iowa derecho. Hurricane Teddy hitting Nova Scotia, Canada! And now Paulette, a "zombie storm" that died, then regenerated over the eastern Atlantic. Back from the dead.
Make it stop, please.
---
Ever Wonder Why Trees Ditch Their Leaves Every Fall? The Washington Post (paywall) has a good explainer geared toward kids; here's an excerpt: "…Trees are solar-powered. Each leaf is loaded with a pigment called chlorophyll (pronounced CLORE-o-fill), which absorbs light and helps convert water and carbon dioxide into energy. The process is called photosynthesis (fo-toe-SYN-thuh-sis). But there's a problem. In parts of the world that experience seasons, winter means less and less sunlight each day. It also comes with biting cold that can freeze the liquids inside leaves. These two factors hamper the tree's ability to make energy. A full-grown oak tree might have more than 60,000 leaves, and each one requires valuable nutrients. So when fall turns into winter, trees discharge their leaves as a cost-cutting measure. If it had to spend resources on all those leaves through the winter, not only would the leaves freeze, but the tree would die..."
---
Briefing: Issued Tuesday, September 22nd, 2020:
Tropical Storm Beta
Beta Producing Heavy Rain Across Coastal Texas. Beta made landfall on the southern end of the Matagorda Peninsula last night around 10 PM and has continued to move farther inland overnight. This system is producing heavy rain across portions of Texas, with several one-day rainfall amounts of 6"+ around Houston. As of 7 AM CT, the center of Beta was located 10 miles east-southeast of Victoria, TX, or 35 miles west of Palacios, TX, moving northwest at 3 mph. Beta has sustained winds of 40 mph. Recently there was a sustained wind of 39 mph with a gust of 47 mph at Victoria.
---
Beta Track. While Beta is slowly moving this morning, it is expected to stall out inland over Texas today, slowly starting to move off to the east-northeast later tonight. The forward speed of Beta should increase as we head through the middle of the week, with Beta moving across portions of Louisiana and Mississippi late Wednesday through Friday. With Beta inland over Texas, we should see gradual weakening over the next few days with the system becoming a tropical depression by Wednesday morning and a remnant low in about two to three days.
---
Tropical Storm Warnings. Tropical Storm Warnings remain in place across portions of Texas this morning due to the potential of tropical storm force winds (39+ mph). Cities under Tropical Storm Warnings include Victoria, Bay City, Galveston, and Beaumont. Here are where warnings are in place along the coast:
A Tropical Storm Warning is in effect for…
* Port Aransas Texas to Sabine Pass
---
---
Heavy Rain. Heavy rain will continue to fall across the Deep South over the next few days as Beta eventually works off to the northeast. The heaviest additional rain totals are expected along the middle/upper Texas coast, with an additional 6-12" of rain leading to some storm totals of 20". This will lead to significant flooding across the region. Elsewhere across portions of the lower Mississippi Valley and the Southeast rainfall totals of 3-5" are expected.
---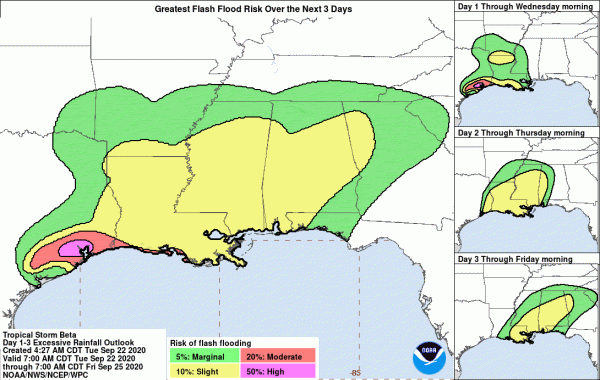 High Flooding Threat. As heavy rain has already fallen across the Texas Coast, with almost 7" of rain in the past day at Houston's Hobby Airport, additional rain of at least 5-10" will lead to the potential of significant flash flooding along the upper Texas coast, particularly around the Houston metro. Due to this a High Risk of flash flooding is in place today. You can see a lesser flood threat move off to the east/northeast over the next few days.
---
Flood Watches. Due to the heavy rain threat, Flood Watches are in place from the mid-Texas coast to southern Louisiana.
---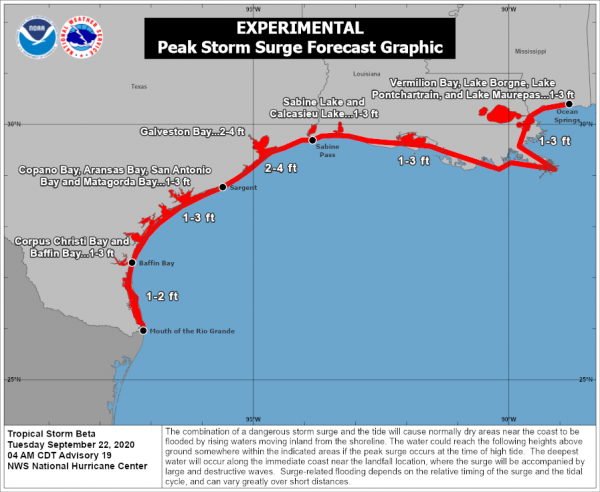 ---
Storm Surge Threat. Coastal flooding and storm surge will continue to be a threat with Beta with Storm Surge Warnings from Sargent, TX, to Sabine Pass including Galveston Bay. The combination of the storm surge and tide will cause normally dry areas to be flooded by water moving inland from the Gulf of Mexico. The following levels could be reached if the peak surge occurs at high tide:
Sargent, TX to Sabine Pass including Galveston Bay…2-4 ft
Sabine Pass to Ocean Springs, MS including Sabine Lake, Calcasieu Lake, Vermilion Bay, Lake Borgne, Lake Pontchartrain, and Lake Maurepas…1-3 ft
Baffin Bay, TX to Sargent, TX including Copano Bay, Aransas Bay, San Antonio Bay, Matagorda Bay, Corpus Christi Bay and Baffin Bay… 1-3 ft
Mouth of the Rio Grande to Baffin Bay, TX…1-2 ft
---
Other Tropical Activity
---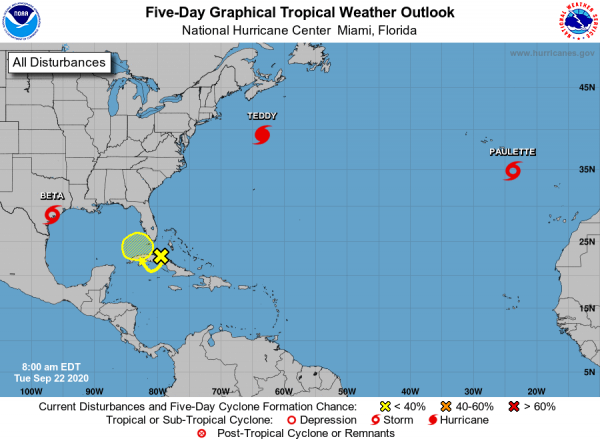 Other Tropical Activity. We are also watching the following systems in the Atlantic:
Hurricane Teddy: Teddy is moving north-northwest this morning at 28 mph, heading for Atlantic Canada. On the current track, the center will move across eastern Nova Scotia Wednesday then over Newfoundland by Wednesday Night. Tropical Storm Warnings are in place for the south coast of Nova Scotia from Digby to Meat Cove, with Tropical Storm Watches from Meat Cove to Tidnish Nova Scotia, North of Digby to Fort Lawrence Nova Scotia, Magdalen Islands Quebec, Port aux Basques to Francois Newfoundland, and Prince Edward Island.
Tropical Storm Paulette: Paulette has returned from the dead as a tropical storm southeast of the Azores. Paulette will continue to move to the east-northeast for the next day and a half before it turns back westward and becomes post-tropical.
An area of showers and storms extends from the southeastern Bahamas west into Cuba and the southeastern Gulf of Mexico. It will move slowly move south today and tomorrow before moving back north through the end of the week. If development occurs (only a 10% chance in the next five days) it will be over the southeastern Gulf of Mexico late this week.
D.J. Kayser, Meteorologist, Praedictix
---
---
---
But Wait, There's More. Hurricane Paulette hit Bermuda back on September 7, and then weakened as it passed over cold water. The core of the storm passed over warmer water west of Portugal, and now this disturbance has "regenerated" back into Tropical Storm Paulette. Welcome to zombie storms. It's 2020, why not.
---
Summer of U.S. Disasters Set Records, Left Trail of Ruins. Bloomberg summarizes some of the biggest weather stories of 2020: "…Other parts of the U.S. saw record temperatures, too. Arizona, California, Colorado, Nevada, New Mexico and Utah all had their warmest August on record. Phoenix had its hottest month ever in August, with an average temperature of 99.1. And it was the hottest July ever across the Northern Hemisphere. Derechos: A line of violent storms known as a derecho cut electricity to more than 1 million customers last month in the U.S. Midwest and destroyed more than 550,000 acres of corn in Iowa. It was 160 miles (260 kilometers) wide, bringing lightning, hail and deadly, 100 mile-per-hour winds that cut a path of destruction across Iowa, Illinois and Indiana. It was one of the most damaging storms ever for Eastern Iowa's power grid, leaving some areas without power for more than a week..."
File image above: NOAA.
---
Smoke from Western Fires Reported As Far Away as the Netherlands. Mental Floss has details: "For those not living in California, Oregon, or Washington, the raging wildfires in those states that have consumed more than 4 million acres might seem slightly abstract. But over the past week, the intensity of those blazes, coupled with specific weather patterns, has made it possible for people in New York—and even as far away in Europe as the Netherlands—to look up and see smoke in the skies. According to both NASA and the National Weather Service, jet streams have allowed the smoke to migrate across the Northeast and Mid-Atlantic regions, with the plume strong enough to actually blot out the sun and lower the temperature by a few degrees..."
Tuesday smoke visualization courtesy of NOAA.
---
The Limits of "Forest Management". Can we do more to clear out brush and dead trees, less fuel to combust during a mega-fire? Absolutely. But other factors are in play, according to a story at The Washington Post: "…The scale of this year's fires have horrified even those who saw them coming. As of Tuesday, 3.2 million acres in California have been incinerated — almost double the previous record of 1.9 million, set in 2018. In Oregon, blazes have erupted in parts of the wet Western Cascades that have not burned in years. On a single day last week, red-flag warnings on fire weather stretched along the entire West Coast from the U.S. border with Mexico to Canada. "It really is a shocking escalation," said Daniel Swain, a climate scientist at the University of California at Los Angeles. "Characterizing it as a phase change, a new era of megafire — as dramatic as that sounds, ultimately I think it's accurate…"
---
The Most Destructive Tornado in Minnesota History? Star Tribune follows up on a very good question: "…National Weather Service meteorologist Todd Krause noted that those tornadoes of a century ago tended to be more deadly because warning systems were rudimentary. Finally, if we consider property damage, the 1965 outbreak was the worst. Because it struck densely populated areas, it caused tens of millions of dollars in damage within a few hours. Some larger tornado systems may have caused more physical destruction, but fewer homes were lost because they took place in rural areas. The 1992 tornado system that hit Chandler, for example, spawned 27 total tornadoes. Even more were recorded on June 17, 2010, when 48 twisters walloped 22 counties, from Wadena to Albert Lea…"
Map credit: Mark Boswell, Star Tribune Source: National Weather Service
---