La Nina Now Likely This Winter
I've consulted my therapist and my winter outlook remains unchanged: "Colder with some snow". It's the details (when, where, how much?) that trip me up every time.
According to NOAA, a La Nina cooling phase in the Pacific Ocean should linger into much of the winter. Every La Nina is different (lovely) but most La Nina winters favor more snow for the Northern Plains and Upper Midwest. Snowfall has been erratic in recent years but snow lovers may have reason for hope.
In spite of La Nina, NOAA's Climate Prediction Center predicts a milder than average fall (October through December) for the entire USA. Despite next week's chill I see mild bias in the weeks ahead.
---
NOAA Declares La Nina is Here. The Washington Post's Capital Weather Gang discusses the potential implications (for hurricane season and the upcoming winter) by a cooling phase in the Pacific Ocean: "The National Oceanic and Atmospheric Administration declared Thursday that a La Niña pattern had become established, having bearing on the remainder of the hurricane season and the upcoming winter. La Niña conditions are likely to continue through at least wintertime, potentially returning to a more relaxed "neutral" state by spring. La Niña, which means "the girl" in Spanish, is the opposite of an El Niño. La Niña features unusually cool ocean waters in the equatorial tropical Pacific Ocean and can influence weather patterns beyond the Pacific. The expectation of a La Niña pattern was a contributor in NOAA's early August forecast of an "extremely active" hurricane season..."
Map credit: "Current sea surface temperature anomalies in degrees Celsius. Note the cool waters in the eastern Pacific commensurate with La Niña." (Tropical Tidbits)
---
Temperature Bounce First Week of October. We start October on a chilly note, but temperatures are forecast to moderate after October 2 or 3. We'll see more 70s the first half of October.
---
Briefing: Issued Wednesday morning, September 23rd, 2020:
Beta Moving East-Northeast. Beta has continued to weaken over the past day and is now classified as a post-tropical cyclone. Even though it is no longer tropical, it is still producing heavy rain from eastern Texas into the lower Mississippi Valley. As of 4 AM CT, Beta had winds of 30 mph. The center of Beta was located about 30 miles east-southeast of Houston, or 70 miles west-southwest of Port Arthur, TX, and moving east-northeast at 9 mph. Beta will continue to move in a northeast-direction with a forward increase in speed over the next 48 hours.
---
Heavy Rain. Heavy rain will continue to fall across the Deep South over the next few days as Beta continues to move off to the northeast. Additional rainfall of 2-5" are expected from the upper Texas coast into portions of the Lower Mississippi Valley, Tennessee Valley, and the southern Appalachians through the end of the week. Along the upper Texas Coast, overall totals of up to 15" will be possible. This heavy rain across the region could lead to flash flooding.
---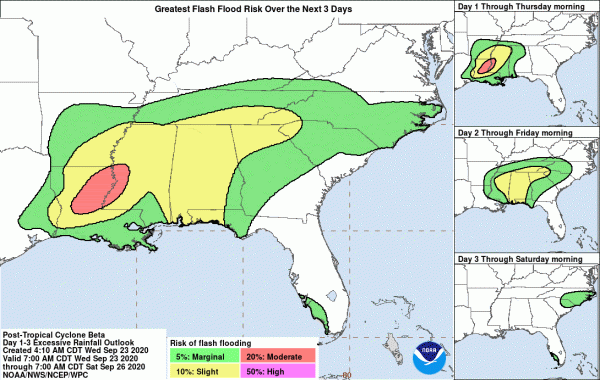 Flooding Threat. With rainfall rates of 1-3" per hour expected today and tonight (particularly this afternoon and overnight) across portions of Louisiana and Mississippi, one day rain totals of 2-6" are expected. This could lead to flash flooding across the region, with a Moderate Flood Risk in place.
---
Flash Flood Watches. Due to the heavy rain threat continuing today across portions of the Lower Mississippi Valley, Flash Flood Watches remain in place from eastern Texas into central Mississippi. Across portions of Mississippi and Louisiana these watches last into Thursday.
D.J. Kayser, Meteorologist.
---
"Zombie Storms"? Hurricane Paulette is Back From the Dead. CNN.com reports: "…Hurricane Paulette made landfall in Bermuda as a Category 1 and strengthened to a Category 2 over the island on September 14. The storm then lost speed and lost its tropical storm status, downgraded to a post-tropical low-pressure system. The storm formerly known as Paulette stewed for five and a half days. That is, until this week.Paulette regained strength and became a tropical storm once more on Monday, according to the National Hurricane Center. Paulette reappeared Monday about 300 miles off the coast of the Azores islands..."
---
---
August Complex Fire Now the Largest in State History. ABC7 in San Francisco has the story: "The August Complex Fire currently burning in Northern California is the largest fire in the state since record-keeping began, according to data from CAL FIRE. Several other fires that started in August have also climbed the list of the largest in recent history, including the SCU and LNU Lightning Complex fires and the North Complex Fire…"
Image credit: "The August Complex Fire in Northern California is now the largest fire in the state since record-keeping began. Several other fires that started in August have also climbed the list of the largest in recent history, according to data from CAL FIRE."
---
Few Resources, Old-Growth Forest Allowed for Fire's Growth. And a warmer (drier) climate is part of the equation, according to Associated Press: "…Numerous studies in recent years have linked bigger U.S. wildfires to global warming from the burning of coal, oil and gas, especially because climate change has made California much drier. A drier California means plants are more flammable. The Bobcat Fire was one of more than two dozen major wildfires burning across California, including five of the largest in state history. Twenty-six people have been killed. Officials were investigating the death of a firefighter at another Southern California wildfire that erupted earlier this month from a smoke-generating pyrotechnic device used by a couple to reveal their baby's gender..."