Fine Fall Weather Into The Weekend
"October was always the least dependable of months, full of ghosts and shadows" wrote Canadian novelist Joy Fielding. True, October can be a dark, turbulent, windblown month, but if you're not a fan of freezes and flakes I have a sneaky suspicion you're going to like this month more than usual.
NOAA is calling for a La Nina winter, which often favors more snow for Minnesota. But the latest January forecast from ECMWF (European model) predicts record warmth for the lower 48 states in January 2021. Place your bets, but it may not be business as usual this winter. Then again, it rarely is.
---
Photo credit above: Pete Schenck, who snapped this picture from the top of the fire tower in Pequot Lakes.
---
How Might La Nina Cooling Phase Impact Our Winter? Good luck with that one – models are literally all over the map. Every La Nina cold phase of the Pacific is different, but I found some interesting nuggets in a post at severe-weather.eu: "…The temperature forecast below shows much of North America in above-normal temperatures. But this might not be the best solution, also considering what the model showed on the previous image with the pressure systems. Alaska and Western Canada will be colder than normal, with a high chance of the colder air extending towards the parts of the northern United States and also with a few storms into the northeast. Europe also features higher than normal temperatures, but not to a high value. Tho a more westerly dominant scenario is likely, the pressure pattern does allow for a break in the flow, and occasional cold flow from the north into Europe, dependant on the positioning of the Atlantic high-pressure system…"
Map credit: NOAA Climate.gov.
---
On The Other Hand. Here is ECMWF's latest seasonal model for January, 2021. La Nina? La Schmina! We'll see if this actually verifies.
---
Trending Cooler Latter Half of October. I can make one forecast with relative confidence: cool fronts will outnumber warm frontal passages by the latter half of October. A return to average or below-average temperatures is likely within 2 weeks, give or take.
---
---
Praedictix Briefing: Issued Monday morning, October 5th, 2020: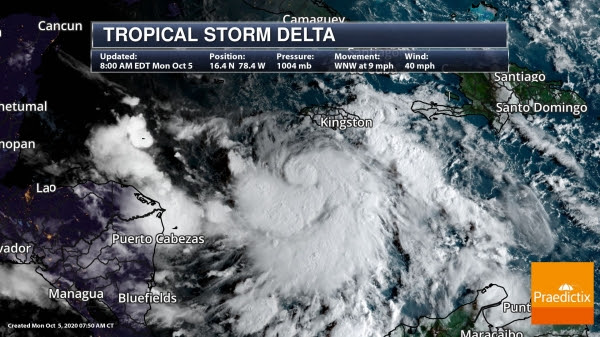 Tropical Storm Delta. NOAA's NHC started issuing advisories on Tropical Storm Delta at 7AM CDT Monday. Delta has become the 25th named storm of the 2020 Atlantic Hurricane Season. Keep in mind that we've only had one other year that we've entered the Greek Alphabet when naming Atlantic systems and that was back in 2005. This year, Delta has developed 6 weeks earlier than that of Delta in 2005 (old record: November 15th, 2005). At present, Tropical Storm Delta has sustained winds of 40mph and is drifting WNW at 9mph. If Delta does in fact make landfall with the U.S., it will be the 10th U.S. landfalling tropical system this year, which would break the record of 9 U.S. landfalling tropical systems set back in 1916.
---
Tropical Watches & Warnings. According to NOAA's NHC, Tropical Storm Warnings are currently in place for the Cayman Islands, while Hurricane Watches & Tropical Storm Watches have been issued for western Cuba. The National Weather Service from the Cayman Islands Government warns of heavy rainfall both Monday and Tuesday with gusty winds up to 30 knots. Offshore swells could reach 10ft. – 15ft., which could result in a dangerous storm surge and rip current potential for the Cayman Islands. As of AM Monday, there haven't been any tropical watches or warnings that have been issued along the U.S. Gulf Coast, but it will likely happen as Delta drifts WNW over the coming days.
---
Tracking Delta. According to NOAA's NHC, Delta will remain at Tropical Storm status through Tuesday, but could become a hurricane as earlier as Wednesday morning. By Thursday morning, Delta is expected to become a Cateogry 2 Storm with winds near 105mph. By AM Friday, Delta could still be a Category 2 storm with sustained winds near 100mph as it nears the U.S. Gulf Coast. Keep in mind that the Cone of Uncertainty stretches from Louisiana to the Florida Panhandle, so facilities in these areas should remain on high alert.
---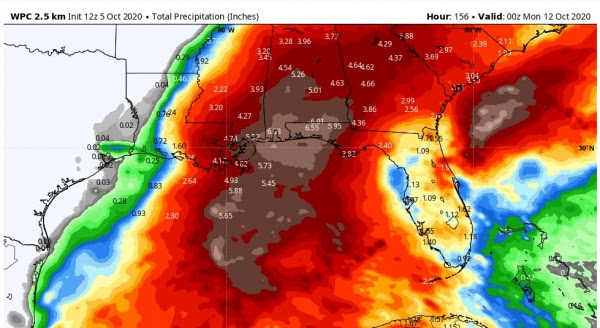 Heavy Rainfall & Flood Potential. NOAA's WPC preciptation forecast through PM Sunday shows very heavy rainfall potential once again for parts of the Gulf Coast States. Early estimates suggest 6″ of rain or more. With that said, strong (hurricane-force) winds, storm surge and flash flooding will all be possible later this week and weekend as Delta approaches from the south. We will keep you updated as more information becomes available.
---
Tropical Storm Gamma. Tropical Storm Gamma became the 24th named storm of the 2020 Atlantic Hurricane Season over the weekend and made landfall near Tulum, Mexico at 11:45AM CT Saturday. Areas of heavy rainfall and life-threatening flash flooding has been an ongoing threat along the Yucatan Peninsula. At present, Gamma is located north of Cancun, Mexico with sustained winds of 45mph and is moving SSW at 2mph.
---
Tropical Storm Watches and Warnings. Tropical Storm Watches and Warnings continue along the northern coast of the Yucatan Peninsula as strong winds, storm surge and heavy rainfall continue there.
---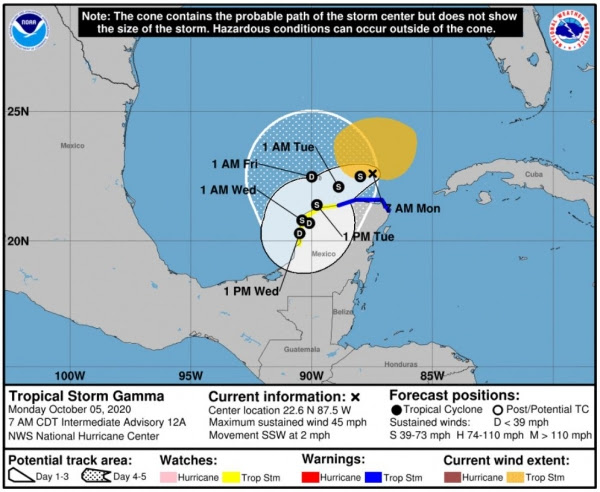 Tracking Tropical Storm Gamma. According to NOAA's NHC, Tropical Storm Gamma will continue to meander along the northern coast of the Yucatan Peninsula before weakening to a Tropical Depression at some point Tuesday or Wednesday. Gamma could then drift north back into the open waters of the Gulf late week, so we'll have to continue to watch this system for any further intensification beyond Friday.
Todd Nelson, Meteorologist, Praedictix
---
---
NOAA Landfall Predictions. Where will Hurricane Delta come ashore? NOAA's HMON hurricane model (above) suggests landfall closer to Biloxi or Mobile, while NOAA's HWRF model (below) shows "Delta" hitting the central Louisiana coastline. Graphics: WeatherBell.
---
---
Repeatedly Flooded Properties Will Continue to Cost Taxpaers Billions of Dollars. Some interesting statistics courtesy of The Pew Charitable Trusts: "…Among the NFIP's flaws is the way it treats repetitive loss properties (RLPs)—those that have flooded and received insurance claim payments multiple times. Unlike private insurers, the NFIP lacks the legal authority to manage costs by refusing coverage to or dramatically increasing rates for properties with excessive claims. Today, there are more than 5 million NFIP policies. Historically, RLPs comprise around 1 percent of NFIP insured properties, but over time they have accounted for more than 30% of claim payments.  The NFIP has paid a cumulative $22.2 billion in claims to RLPs, an amount that surpasses the program's total debt, according to the Government Accounting Office (GAO)..."
File photo: NOAA.
---
Floodgates in Venice Work in First Major Test. The New York Times (paywall) reports: "After decades of bureaucratic delays, corruption and resistance from environmental groups, sea walls designed to defend Venice from "acqua alta," or high water, went up on Saturday, testing their ability to battle the city's increasingly menacing floods. By 10 a.m., all 78 floodgates barricading three inlets to the Venetian lagoon had been raised, and even when the tide reached as high as four feet, water levels inside the lagoon remained steady, officials said. "There wasn't even a puddle in St. Mark's Square," said Alvise Papa, the director of the Venice department that monitors high tides..."
Image credit here.