Hurricane Delta Threatens Gulf Coast
"Paul, has a hurricane named after the Greek alphabet ever been retired?" According to the World Meteorological Organization (WMO) that has never happened – and no, any Greek name would be reused in the future.
Why is this even relevant? Hurricane "Delta" may deliver a devastating blow to Cancun today before curving north, coming ashore as a major (Category 3+) storm over coastal Louisiana or Texas Friday night. Many small towns in Louisiana still haven't recovered from Hurricane Laura, which roared ashore August 26.
"Delta" is the 25th named storm of 2020. The all-time record is 28 named storms in 2005, the year Katrina flooded New Orleans.
Image credit above: AerisWeather.
---
Colder Turn Within 2 Weeks. I mean, who could have predicted that? Did I mention that any lingering warm fronts are living on borrowed time? Expect a few more aggressive slaps of cold air by the third week of October.
---
---
Briefing. Issued Tuesday morning, October 6th, 2020:
Key Messages:
Hurricane Delta is now a MAJOR Category 3 storm with maximum sustained winds of 115 mph and is now the third major hurricane of the 2020 Atlantic hurricane season. and is located southwest of the Cayman Islands in the Caribbean.

Delta has undergone rapid intensification and further strengthening is expected in the next 24 hours. A Category 4 landfall in the Yucatan is expected to occur tomorrow.

Tropical storm conditions will begin later today and tonight in the Yucatan peninsula with hurricane conditions beginning tomorrow. Hurricane warnings are in effect for this area. Hurricane warnings are currently in effect for the northern Yucatan.

Hurricane Delta will impact the United States later this week with landfall projected late Friday night into early Saturday morning as a Category 2 hurricane in the Gulf Coast.

Widespread heavy rainfall will occur later this week in the lower Mississippi Valley into the Tennessee Valley and Kentucky.
---
Delta Continues to Strengthen. Low wind sheer, deep moisture and very warm Caribbean waters will continue to strengthen Hurricane Delta with strengthening expected to continue until it reaches the Yucatan. The storm's speed has increased this morning and is moving WNW at 16 mph.
---
Tracking Hurricane Delta. Delta is projected to continue to move WNW today. There has been a slight westward shift in the forecast track this morning for the first 24-36 hours. A strengthening ridge is the steering mechanism of this hurricane at the moment. With further strengthening today and tomorrow, Delta is forecast to make landfall in the Yucatan (Cancun area) Wednesday as a MAJOR Category 4 hurricane. If Delta does indeed strengthen to have winds of 120 mph as the forecast suggests, it would become the strongest Greek-named hurricane in the Atlantic on record.
---
End-of-Week Landfall in the United States. Once Delta enters the Gulf, the hurricane is expected to slow and turn northward as a trough moves through Texas. Some fluctuation in strength is expected once it's in the Gulf of Mexico. At the moment, the NHC is projecting a Category 2 landfall in the U.S. Gulf Coast Friday night/early Saturday morning. Note that there is significant uncertainty in Delta's longer range track. The 4-day track error is around 150 mph with an intensity error at nearly 15 mph.
---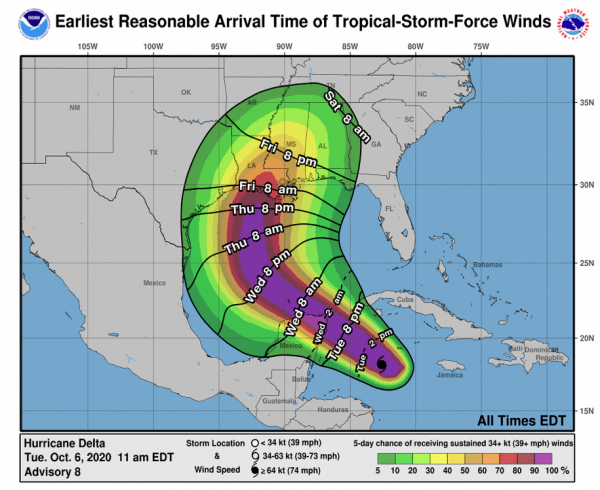 Arrival of Tropical-Storm-Force Winds. The latest forecast update from the NHC suggests the arrival of tropical-storm-force winds in the Gulf of Mexico by late Thursday evening into Friday morning. Hurricane conditions are expected as Delta tracks closer later Friday into Saturday morning. Warnings will be issued when hurricane conditions are expected within 24 to 36 hours.
---
Tropical Alerts in Effect. Hurricane conditions will begin early Wednesday in the Yucatan with tropical storm conditions beginning later today or tonight. Tropical storm conditions will continue today in the Cayman Islands. Hurricane-force winds extend outward up to 25 miles from the center of Delta with tropical-storm-force winds extending outward up to 90 miles. Below is a summary of the active warnings and watches in effect:
A Hurricane Warning is in effect for…
* Tulum to Dzilam Mexico
* Cozumel
A Tropical Storm Warning is in effect for…
* Cayman Islands including Little Cayman and Cayman Brac
* Cuba province of Pinar del Rio
* Isle of Youth
* Punta Herrero to Tulum
* Dzilam to Progresso
A Tropical Storm Watch is in effect for…
* Cuba province of La Habana
---
Torrential Rainfall. Hurricane Delta will produce between 4 and 6 inches of rainfall with isolated maximum totals of 10 inches across the northern Yucatan through the midweek. Significant flash flooding is expected with the threat of mudslides. In the United States, the storm is projected to bring a widespread 3 to 6 inches of rain from the lower Mississippi Valley into the Tennessee Valley and Kentucky. The higher totals will likely occur in Louisiana, Mississippi, western Alabama, southeastern Arkansas, and southwestern Tennessee.
Meteorologist Susie Martin.
---
---
---
Can Songbirds Predict Hurricane "ACE" (Accumulated Cyclone Energy)?
I know it sounds too strange to be true, but maybe birds know something we don't. Here's an excerpt of the study abstract at
Nature.com's Scientific Reports
: "…
I show that a single-brooded Nearctic-breeding species' (Catharus fuscescens) nesting phenology and clutch size are significant predictors of Accumulated Cyclone Energy. The most skilled predictive model includes both mean clutch initiation date and mean clutch size (R2 = 0.84). Spearman rank correlation coefficients for both predictors with subsequent major hurricanes (1998–2016) are −0.55 and 0.52, respectively. Therefore, May and June clutch initiation and clutch size showed stronger correlations with subsequent hurricanes than early season (prior to August) meteorological predictions widely publicized by CSU, NOAA, and TSR (≤0.45, 2003–2014). Rainfall anomalies in the southern Amazon basin associated with ENSO cycles are a possible proximate cue affecting phenology and clutch size. This discovery potentially has far-reaching ornithological, meteorological, and social implications and shows that tropical storms significantly constrain breeding season behavior providing renewed evidence that hurricane activity is a primary factor regulating Nearctic-Neotropical migratory songbird populations
…"
---
California's Largest Wildfire on Record is Now a "Gigafire"
. New words entering our lexicon, courtesy of
Vox
: "
A single wildfire in California has reached the stunning size of more than 1 million acres, becoming the first "gigafire" in the state in decades. As of Monday morning, the August Complex Fire in the northern part of the state had burned at least 1,002,000 acres and was 54 percent contained, according to the California Department of Forestry and Fire Protection (Cal Fire). The area that has burned since the fire ignited on August 16 is larger than Rhode Island and spans seven counties. The blaze is just one of almost two dozen major wildfires in the Golden State right now in what has already been an extraordinary year for these sweeping infernos
…"
---
Epic Scale of California Wildfires Continues to Grow
. Fire season isn't nearly over yet in the western U.S. Here's more perspective on the scale of the blazes from
Associated Press
: "
The staggering scale of California's wildfires reached another milestone Monday: A single fire surpassed 1 million acres. The new mark for the August Complex in the Coast Range between San Francisco and the Oregon border came a day after the total area of land burned by California wildfires this year passed 4 million acres, more than double the previous record. Gov. Gavin Newsom said the amount of land scorched by the August Complex is larger than all of the recorded fires in California between 1932 and 1999. "If that's not proof point, testament, to climate change, then I don't know what is," Newsom said.
.."
File photo credit: "In this Sept. 16, 2020 file photo the August Complex Fire burns near Lake Pillsbury in the Mendocino National Forest, Calif. The staggering scale of California's wildfires has reached another milestone. The new mark for the August Complex Fire in the Coast Range between San Francisco and the Oregon state line on Monday, Oct. 5, 2020, surpassed 1 million acres." (AP Photo/Noah Berger, File)
---
How Might La Nina Cooling Phase Impact Our Winter? Good luck with that one – models are literally all over the map. Every La Nina cold phase of the Pacific is different, but I found some interesting nuggets in a post at severe-weather.eu: "…The temperature forecast below shows much of North America in above-normal temperatures. But this might not be the best solution, also considering what the model showed on the previous image with the pressure systems. Alaska and Western Canada will be colder than normal, with a high chance of the colder air extending towards the parts of the northern United States and also with a few storms into the northeast. Europe also features higher than normal temperatures, but not to a high value. Tho a more westerly dominant scenario is likely, the pressure pattern does allow for a break in the flow, and occasional cold flow from the north into Europe, dependant on the positioning of the Atlantic high-pressure system…"
Map credit: NOAA Climate.gov.
---
On The Other Hand. Here is ECMWF's latest seasonal model for January, 2021. La Nina? La Schmina! We'll see if this actually verifies.
---
What a Difference a Year Makes. Dr. Mark Seeley contrasts 2019 and 2020 in the latest edition of Minnesota WeatherTalk: "Last year (2019) was the wettest year in history for Minnesota with a statewide average precipitation of 35.66 inches, about 28 percent higher than the long-term annual mean for the state of 27.92 inches. I thought for perspective we could look at statistics for the first nine months (Jan-Sep) of 2020 and examine the values of precipitation. On a statewide basis the first 9 months of 2020 delivered an average of 21.21 inches, down from the first 9-months of last year which was 28.45 inches. For the year so far most climate stations in the state are reporting less than average precipitation, and some places are exceptionally dry. These include: Duluth with 15.04 inches for Jan-Sep, the 3rd driest all-time (trailing 1918 and 1934)…"
Photo credit: Chris McKelvey, Praedictix.
---
Repeatedly Flooded Properties Will Continue to Cost Taxpayers Billions of Dollars. Some interesting statistics courtesy of The Pew Charitable Trusts: "…Among the NFIP's flaws is the way it treats repetitive loss properties (RLPs)—those that have flooded and received insurance claim payments multiple times. Unlike private insurers, the NFIP lacks the legal authority to manage costs by refusing coverage to or dramatically increasing rates for properties with excessive claims. Today, there are more than 5 million NFIP policies. Historically, RLPs comprise around 1 percent of NFIP insured properties, but over time they have accounted for more than 30% of claim payments.  The NFIP has paid a cumulative $22.2 billion in claims to RLPs, an amount that surpasses the program's total debt, according to the Government Accounting Office (GAO)..."
File photo: NOAA.