---
---
Intermediate Briefing: Issued late Thursday afternoon, October 8, 2020:
Key Points:
– Hurricane "Delta" is the 6th tropical system to impact Louisiana in 2020, hitting roughly the same area impacted severely by Hurricane Laura in late August.
– Hurricane Delta has strengthened back into a Category 3 storm, growing larger over time with a broad windfield and significant storm surge.
– Although not as severe as Hurricane Laura, Hurricane Delta will cause very considerable coastal storm surge flooding as well as flash flooding hundreds of miles inland after landfall in the next 72 hours.
– Hurricane Delta is the 5th hurricane to hit the U.S. coastline in 2020, the most since 2005, when "Katrina" flooded New Orleans.
– Although metro Houston and New Orleans will be spared a direct strike, flash flooding and (minor) storm surge damage can't be ruled out. We are most concerned about Lake Charles, Lafayette and Baton Rouge, with severe inland flooding within 200-300 miles of the Gulf Coast.
---
Delta is Strengthening Again. Hurricane Delta weakened considerably after hitting the Cancun area on Mexico's Yucatan Peninsula. Slightly cooler water closer to the coast may prevent rapid intensification, but there is every indication "Delta" will hit as a strong Category 3 hurricane late Friday and Friday night. Latest update from NOAA NHC:
…DELTA REGAINS MAJOR HURRICANE STRENGTH OVER THE WESTERN GULF OF
MEXICO…
…HURRICANE CONDITIONS AND LIFE-THREATENING STORM SURGE EXPECTED
TO BEGIN ALONG PORTIONS OF THE NORTHERN GULF COAST ON FRIDAY…
SUMMARY OF 400 PM CDT…2100 UTC…INFORMATION
———————————————-
LOCATION…24.8N 93.4W
ABOUT 345 MI…555 KM S OF CAMERON LOUISIANA
MAXIMUM SUSTAINED WINDS…115 MPH…185 KM/H
PRESENT MOVEMENT…NW OR 320 DEGREES AT 12 MPH…19 KM/H
MINIMUM CENTRAL PRESSURE…959 MB…28.32 INCHES
---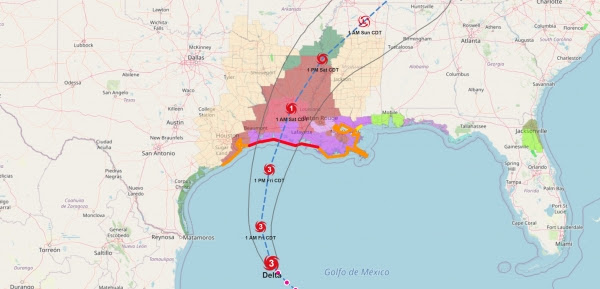 Projected Track of Delta. Models are in fairly good agreement that Delta will thread the needle, passing between Houston/Galveston and New Orleans, but areas that usually flood during tropical systems in the Houston and New Orleans metro areas may experience flooding from Delta, with the best chance of overflows and urban flooding Friday afternoon into midday Saturday.
---
Arrival of Tropical Storm-Force Winds. Tropical storm force winds are defined as sustained winds of 39 mph or higher, and those conditions will reach the Gulf Coast by early Friday morning. Coastal evacuations in Louisiana and hardening of facilities and contingency plans in Houston and New Orleans should be rushed to completion this evening.
---
---
Similar Model Solutions. NOAA's hurricane models, HMON (top) and HWRF (bottom) both show nearly identical solutions for landfall along the southwestern coastline of Louisiana. When models agree, our confidence levels go up. Houston and New Orleans aren't entirely out of the woods, but with each passing our it seems more likely that Hurricane Delta will spare these large metropolitan areas a direct strike late Friday.
---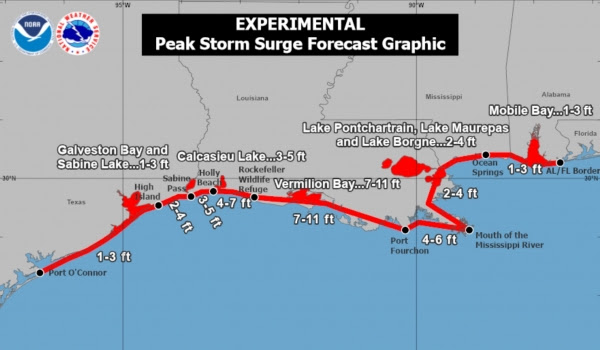 Peak Storm Surge Potential. Remember, the worst storm surge (a sudden rise in water levels ahead of the "eye") occurs east, or to the right of where the eye comes ashore. Vermillion Bay, Louisiana may experience a storm surge of 7-11 feet above average sea levels, with wind-whipped waves superimposed on the surge. A 2-4 foot surge is possible on Lake Pontchartrain, north of New Orleans.
---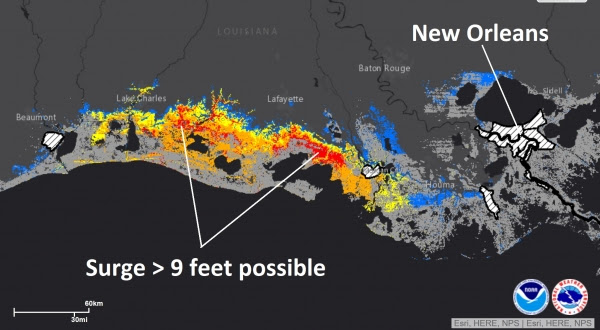 Most Severe Coastal Flooding Potential. We've zoomed into the area of greatest concern, southeast of Lake Charles, where storm surge flooding will be severe, nearly as bad as the surge flooding created by Hurricane Laura in late August.
---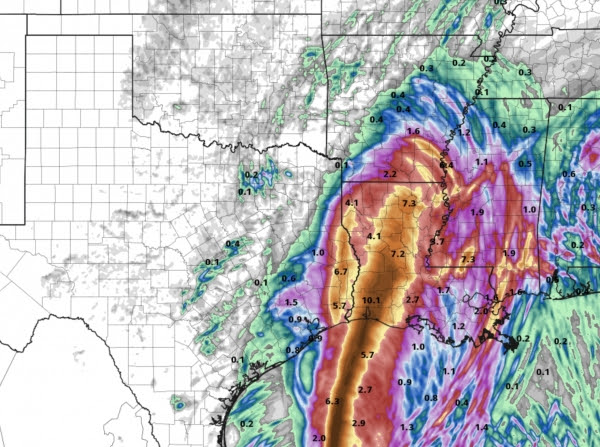 Rainfall Potential from "Delta". Models print out 5-10″ rains over much of western and central Louisiana into southeast Arkansas, where flash flooding is likely. A friendly reminder not to focus entirely on coastal communities – flash flooding is likely hundreds of miles inland.
---
Current Watches and Warnings. Hurricane Warnings and Watches are posted for most of Louisiana, where tornadoes are likely as the core of Delta's spiral bands come ashore. An isolated tornado can't be ruled out as far west as Houston, and as far east as New Orleans, Gulfport and Mobile.
Summary: Hurricane Delta is a dangerous, Category 3 hurricane, capable of a very damaging storm surge pushing several miles inland along coastal Louisiana. Houston will experience heavy rain and flash flooding with a 2-4 storm surge. Minor to moderate flooding is possible in the New Orleans metro area. But confidence levels are high that "Delta" will pass between these metro areas, delivering a punishing blow to smaller cities like Lake Charles, Lafayette and Baton Rouge, still cleaning up from Hurricane Laura back in April. Another briefing Friday morning.
Paul Douglas, Senior Meteorologist, Praedictix
---
---
Cooler Than Average Last Week of October. After our surge of mid-October warmth temperatures will cool within 2 weeks, although not brutal shots are showing up over the horizon just yet.
---
U.S. Hit by 16 Billion-Dollar Disasters This Year, So Far. NOAA has an update on another crazy year of weather extremes: "…From January through the end of September of this year, the U.S. has experienced 16 weather and climate disasters with losses exceeding $1 billion each. Eleven were due to severe storms—which occurred across more than 30 states—and the remaining 5 comprised one wildfire, one drought and three tropical cyclones. With 16 disasters so far, 2020 has already tied with 2011 and 2017 for the largest number of disasters in a calendar year. This is also a record sixth-consecutive year where 10 or more billion-dollar disasters have struck the U.S..."
---
---
The U.S. Could See the Fewest Recorded Deaths from Lightning Strikes This Year. One silver lining in during a volatile year of weather extremes. CNN.com reports: "In a year of increasingly bleak headlines, here's one uplifting piece of news: The US is on track to experience the fewest recorded deaths from lightning strikes in a single year. Fourteen people have died from lightning strikes in the US so far this year. And because peak lightning season in the Northern Hemisphere takes place during June, July and August, the worst is likely behind us. Even if a few more deaths are reported in the next three months, the overall toll will still be below what we usually see, says John Jensenius, a meteorologist and lightning safety specialist with the National Lightning Safety Council…"
File image: NASA.