Forecast: Full Moon on Halloween. Technically it's a "Hunter's Moon". USA TODAY has details: "Halloween night will feature the moon event of the year. For the first time in decades, there will be a full moon visible across the entire U.S. on Halloween night, Oct. 31. The last time that a full moon was seen in all U.S. time zones on Halloween was 1944, according to the Farmers' Almanac. The next time we'll see an equally spooky Halloween full moon is 2039, so plan your werewolf costumes accordingly. The Halloween full moon is also known as a "blue" moon because it's the second full moon of the month..."
File image above: NOAA.
---
Briefing: Issued Tuesday, October 27th, 2020:
Tropical Storm Zeta
Zeta Nearing The Gulf Of Mexico. Zeta made landfall as a hurricane around 11 PM CT last night near Ciudad Chemuyil, Mexico. Zeta has continued to move across the Yucatan Peninsula through the overnight hours, slightly weakening while doing so, and is approaching the northern coast, getting ready to cross into the Gulf of Mexico. As of 7 AM CT, Zeta was located about 45 miles east of Progreso, Mexico, or 540 miles south of the mouth of the Mississippi River, and moving northwest at 14 mph. Zeta had winds of 70 mph and tropical storm force winds extend out up to 140 miles from the center.
---
Zeta Track. Zeta will cross into the southern Gulf of Mexico in the next few hours, continuing to move to the northwest today. We will eventually see a turn to the north tonight and toward the northeast (with a faster forward speed) on Wednesday. This will bring the center of Zeta to the northern Gulf Coast later in the day Wednesday or Wednesday Night. Once it is over the Gulf of Mexico later today, some additional strengthening will be expected with Zeta once again becoming a hurricane. The highest chance of strengthening will be in the next 24 hours as once Zeta reaches the northern Gulf of Mexico stronger upper level winds and cooler water should cause strengthening to cease and there could potentially be some weakening right before landfall. Right now, Zeta is expected to be near hurricane strength at landfall along the southeastern Louisiana coast.
---
Hurricane And Tropical Storm Warnings. Tropical Storm Warnings continue this morning from Punta Allen to Progreso, Mexico, as well as Cozumel, as Zeta continues to impact the region. Ahead of Zeta in the United States, Hurricane Warnings have been issued from Morgan City, LA, to the Mississippi/Alabama border, including Lake Pontchartrain, Lake Maurepas, and Metropolitan New Orleans. Tropical Storm Warnings are in place from Mississippi/Alabama border to Okaloosa/Walton County Line, FL. Tropical Storm Watches are in place from west of Morgan City to Intracoastal City, LA. Warnings are typically issued 36 hours before the first tropical storm force winds.
---
Arrival Of Tropical Storm Force Winds. As Zeta accelerates toward the northern Gulf Coast tomorrow, tropical storm winds will start to impact both the coast and areas well inland as we head through Wednesday and Wednesday Night. As tropical storm force winds arrive, any last-minute preparations will become difficult and dangerous. If possible, preparations should be completed across the region by tonight or early in the day tomorrow.
---
Biloxi Forecast Wind Gusts. As Zeta approaches the coast tomorrow evening, winds will quickly increase in areas like Biloxi. The strongest wind gusts – potentially hurricane force – can be expected late in the evening hours.
---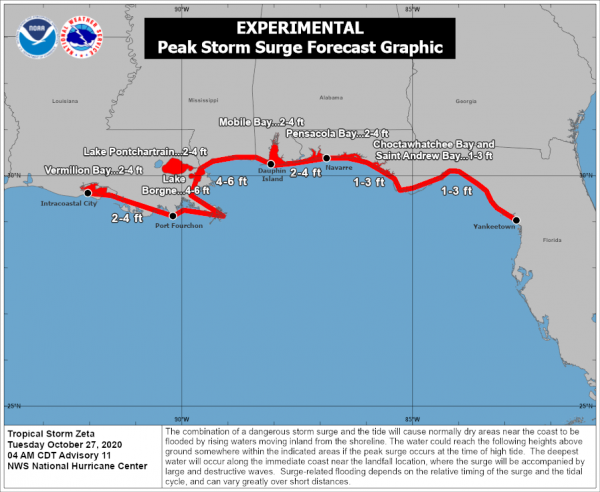 ---
Storm Surge Concerns. As is typical with a stronger landfalling system, storm surge flooding along the coast (where normally dry areas near the coast flood due to water rushing inland) is expected, especially if the surge of water occurs around high tide. The highest forecasted storm surge right now is from Port Fourchon, LA, to Dauphin Island, AL, including Lake Borgne, where a peak surge of 4 to 6 feet is possible. In Biloxi, high tide Wednesday is at 1:22 AM and 12:42 PM, with high tide occurring Thursday at 12:29 AM, 1:53 PM, and 11:22 PM. Storm Surge Warnings have been issued from Intracoastal City, LA, to Navarre, FL, including Lake Borgne, Lake Pontchartrain, Vermilion Bay, Pensacola Bay, and Mobile Bay.
---
---
Heavy Rain Threat. While heavy rain will start to impact the Gulf Coast tonight, spreading north into the Tennessee Valley Wednesday, the main heavy rain with Zeta will push into the region later Wednesday into Thursday with rainfall amounts of at least 2-4" (isolated 6"). This heavy rain will cause the potential for flooding across the region. Flash Flood Watches have already been issued for northern Georgia, including Atlanta, from Wednesday morning through Thursday evening.
---
Tornado Threat. Landfalling tropical systems can also produce a tornado threat, and due to that a Slight Risk of severe weather is in place across portions of southern Alabama and the western Florida Panhandle.
---
Southern U.S. Snow/Ice Storm
Ice And Snow. Ice and snow continue to fall across portions of the Southern United States this morning, with reports from overnight of up to at least a half an inch of ice across portions of central Oklahoma.
---
Winter Weather Alerts. Ice Storm Warnings continue across portions of Texas and Oklahoma today and Wednesday due to additional heavy ice that is expected. In some areas, an additional half an inch of ice could fall. In Oklahoma City, Ice Storm Warnings continue through 1 PM Wednesday. In areas mainly to the west of the Ice Storm Warning, Winter Storm Warnings are in place due to the potential of heavy snow and in some areas mixed precipitation.
---
Ice Potential. In some areas of Texas and Oklahoma, at least an additional third of an inch of ice could fall today into Wednesday. This type of icing will likely cause power outages and tree damage and travel will be difficult.
---
Snow Potential. The heaviest additional snow is expected across portions of New Mexico, where some areas could see an additional 6-12" of snow. At least 2-4" of additional snow is expected in Amarillo and Lubbock.
---
Fire And Wind Out West
Fire Weather Concerns. Yesterday we saw the Silverado Fire ignite, causing evacuations in Irvine, CA. That fire has burned 7,200 acres and is 0% contained. We also saw the Blue Ridge fire cause mandatory evacuations. That fire last night pushed toward Chino Hills and has burned approximately 8,000 acres with 0% containment. The latest on both of these fires can be found from the Orange County Fire Authority on twitter: https://twitter.com/OCFA_PIO. Fire weather conditions with strong winds and low humidity values continue across the western United States today with numerous Fire Weather Warnings in place. The National Weather Service office in Los Angeles says that this is a particularly dangerous situation in the L.A. County Mountains due to moderate to strong (50-80 mph) Santa Ana winds.
---
Fire Outlook Today. We can see some of the higher risk areas today highlighted in the red shaded areas of northern and southern California as well as in the lower Colorado River Valley.
---
Wind Forecast Today. Peak wind gusts of 50 to 80 mph are possible today in the L.A. County Mountains, where these strong winds will be able to drive fire growth.
---
Wind Alerts. Numerous Wind Advisories and High Wind Warnings are in place across portions of the western United States today due to the strong winds expected.
D.J. Kayser, Meteorologist, Praedictix.
---
California Wildfires Force Tens of Thousands to Evacuate Orange County Amid Strong Winds. Here's an excerpt from Capital Weather Gang: "...Winds are still expected to cause rapid fire spread and extreme fire behavior, though they're not as strong as they were on Monday, when a gust to 96 mph was measured in Los Angeles County and gusts up to 88 mph buffeted areas near Fremont Canyon. Ontario Airport saw a gust to 70 mph, and had to shut down due to the severe crosswinds. This week's extreme winds brought the most dangerous conditions the Los Angeles area has seen since October 2019, National Weather Service forecasters said. To raise awareness about the threat, the Weather Service office in Los Angeles called Monday's fire weather a "Particularly Dangerous Situation" (PDS) — a label it reserves for rare events that combine wind gusts greater than 60 mph with single-digit humidity and highly flammable vegetation..."
---
Living in Harm's Way: Why Most Flood Risk Is Not Disclosed. NPR has a troubling story; here's a clip: "…But no one told the Obbinks they were moving into harm's way, because no one was obligated to: not their real estate agent, not the seller, not the inspector. Or any government agency, or the real estate website that listed the property. A growing body of research suggests that the lack of transparency and growing flood risk due to climate change are leading millions of Americans to put their safety and their financial futures in jeopardy. About 15 million properties have significant risk of flooding, according to recent estimates that take into account climate-driven weather. Yet studies in multiple states have found that most people living in harm's way did not understand their home's flood risk until after they purchased it…"
---
The Town That Built Back Green. It can be done, and we'll see more of this in the years to come as communities attempt to become more storm-proof and resilient. Here's a clip from a Washington Post article: "…A wind-swept farming community in southwestern Kansas, Greensburg rebuilt "green" after an EF5 tornado — the most violent — barreled through at more than 200 miles per hour and nearly wiped it off the map in 2007. A decade later, Greensburg draws 100 percent of its electricity from a wind farm, making it one of a handful of cities in the United States to be powered solely by renewable energy. It now has an energy-efficient school, a medical center, city hall, library and commons, museum and other buildings that save more than $200,000 a year in fuel and electricity costs, according to one federal estimate. The city saves thousands of gallons of water with low-flow toilets and drought-resistance landscaping and, in the evening, its streets glow from LED lighting…"
Photo credits: "LEFT: Main and Grant streets the day after an EF5 tornado tore through Greensburg on May 4, 2007, destroying about 95 percent of the community. RIGHT: Main and Grant streets in August 2008."