---
Snowfall Totals. Generally 3-6″ from last night's snow burst, give or take. Click here for updated totals, courtesy of the Twin Cities National Weather Service.
---
Odds Favor a Milder Than Average Thanksgiving. That may seem hard to believe gazing out your snow-encrusted window, but the flow looks more Pacific than Canadian Thanksgiving Week.
---
A Very Warm Start to November.
Dr. Mark Seeley breaks it down in
Minnesota WeatherTalk
; here's an excerpt: "
After recording mostly cooler than normal temperatures on the first day of the month, temperatures have averaged 12 to 18 degrees F warmer than normal under mostly bright, sunny skies. The expected persistence of these warm temperatures through Sunday, November 8th may produce one of the warmest November weeks in state history, rivaling 1975 and 2016. Many climate stations reported setting new record warm daily maximum temperatures and record warm daily minimum temperatures. On November 3rd over 20 new daily record high temperatures were reported within the long-term state climate network. On the 4th this number rose to over 40 stations, and on November 5 it was over 30 stations
…"
---
---
Briefing: Issued Tuesday, November 10th, 2020:
Upper Midwest Snow And Ice
Morning Radar:
Winter Storm Potential. After a cold front moved through the upper Midwest yesterday, a second storm is taking aim on the region today bringing a batch of ice and heavy snow along with it. Precipitation is falling across portions of the region this morning and will continue to move northeast throughout the day. The best chance of icing will be from eastern Nebraska into southern Minnesota, with snow stretching from central Nebraska to the Arrowhead of Minnesota. In Omaha, rain is falling this morning, but it should change over to a wintry mix around the midday hours. In the Twin Cities, precipitation will start in the midday hours as potentially a rain/snow mix, changing to all snow into the evening hours, ending shortly before midnight. The snow in the Twin Cities could be heavy at times this evening.
---
Alerts In Place. Ice Storm Warnings, Winter Storm Warnings and Winter Weather Advisories stretch from eastern Colorado and northern Kansas to Lake Superior. Breaking down some of the larger cities across the region:
Ice Storm Warnings in Nebraska/western Iowa: Through 3 PM for up to a quarter inch of ice.
Ice Storm Warnings in southern Minnesota: Through 6 PM for up to quarter inch of ice.
Omaha, NE: Winter Weather Advisory until 3 PM for some slight ice or snow accumulation.
Sioux Falls, SD: Winter Weather Advisory from 8 AM through 9 PM for 2-6" of snow.
Minneapolis, MN: Winter Storm Warning until Midnight tonight for 4-7" of snow.
Duluth, MN: Winter Weather Advisory from 5 PM today through 4 AM Wednesday for 4-6" of snow.
---
Ice Forecast. While a strip of accumulating ice will be possible today from northern Kansas to northern Wisconsin, the heaviest will be in portions of eastern Nebraska, western Iowa, and southern Minnesota where up to around a quarter inch of ice will be possible. This will cause slippery conditions with hazardous travel possible.
---
Snow Forecast. Heavy snow will also be possible with this storm, with a few areas of 6"+ possible across portions of northwestern Iowa/southwestern Minnesota and northern Wisconsin.
---
Tropical Storm Eta
Eta As Of Tuesday Morning. Eta has made it south to near western Cuba this morning. While some weakening had occurred with Eta over the past 24 hours, re-strengthening has started. As of the 6 AM CT update from the National Hurricane Center, Eta had winds of 60 mph. The center of Eta was positioned 60 miles northwest of the western tip of Cuba and moving south at 5 mph.
---
Eta Track. While Eta has been slowly moving south this morning, it is expected to become stationary later today. We should start to see Eta start slowly moving north tonight, continuing over the next few days. The track of Eta has changed over the past day, with the system now expected to move toward the Florida panhandle into the weekend – however, models are all over the map in regards to the track of Eta once we get more than a couple days out, so there is a lot of uncertainty to the future of the storm. If it does take the current forecast track, we should see some strengthening over the next 24-48 hours followed by weakening. By the time it approaches the Gulf Coast, Eta could be a tropical depression.
---
Tropical Storm Alerts. Tropical Storm Watches remain in place for the Cuban provinces of La Habana, Artemisa, Mayabeque, Pinar del Rio, and the Isle of Youth.
---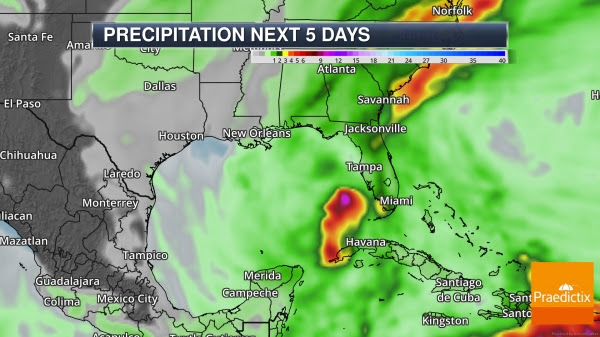 ---
Heavy Rain And Flooding. Heavy rain will continue across portions of western Cuba and southern Florida over the next few days that could lead to flooding. Here's a look at the potential rainfall amounts over the next few days according to the National Hurricane Center:
Western Cuba: an additional 3 to 5 inches (75 to 125 mm), with isolated maximum storm total accumulations of 25 inches (765 mm).
South Florida: an additional 1 to 2 inches (25 to 50 mm), with isolated maximum storm total accumulations of 20 inches (510 mm).

---
Other Atlantic Concerns
---
Subtropical Storm Theta. The 29th named storm of the record-breaking Atlantic hurricane season formed Monday night across the eastern Atlantic. The good news is that Theta won't be a threat to land until this weekend when it could approach Madeira.
---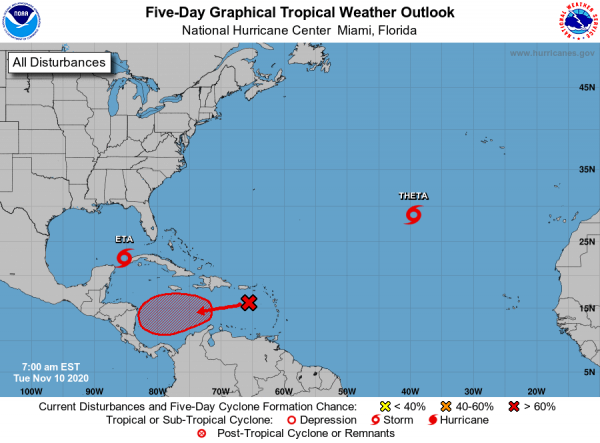 Caribbean Threat. We're also tracking a tropical wave in the eastern Caribbean Sea that will continue to move west this week. As we get toward the late week or weekend time frame we could see a tropical depression form over the central or western Caribbean. There is a 70% chance of formation in the next five days.
---
Vamco In The Western Pacific
---
Latest On Vamco. We're also keeping an eye on Vamco (also known as Ulysses in the Philippines) which looks to impact portions of the Philippines, including Manila, later this week. We still expect to see Vamco strengthen over the next day or so as it approaches the Philippines, with wind speed around 105 mph as the system approaches Manila later Wednesday into early Thursday. According to PAGASA-DOST, Vamco will bring strong winds across the northern Philippines, with Tropical Cyclone Wind Signal #1 in place for Manila, and Tropical Cyclone Wind Signal #2 in place for portions of Luzon, Visayas, and Mindanao. Heavy rain will also bring the threat of flooding, landslides, and sediment-laden streamflows. There is also a moderate to high risk of a storm surge of 1-2 meters in coastal areas including metro Manila. You can read the latest statement from the PAGASA-DOS here: bagong.pagasa.dost.gov.ph/tropical-cyclone/severe-weather-bulletin/2
D.J. Kayser, Meteorologist.
---
---
Effective Government Saves Lives in Cyclones, Other Disasters. Makes sense to me, good government and warning systems in place to cut through the noise so people take meaningful action to protect their properties and their lives. Here's a clip from ScienceDaily: "…There are many examples indicating that strong institutions — including government — play a critical role in protecting populations from adverse effects of natural disasters, Tennant said. But it is much more difficult to determine how universal this relationship is, she said, because there is so much variation in the frequency and severity of storms. Natural hazards such as cyclones, the researcher wrote, result in disasters only when vulnerable human systems are exposed to hazardous conditions. In their analysis, Tennant and Gilmore explicitly accounted for hazard exposure, connecting the analysis of governance and other indicators of well-being to estimates of the severity and exposure to the tropical cyclone hazard…"
File Image: NASA.
---