---
---
Impressive Early Season Snowfall Tallies. Granted, most of it has melted, but 14.8″ of snow in the Twin Cities as of November 10 (more than a foot above average, to date) and nearly 20″ at Duluth? Snow lovers have to feel pretty good right about now. Maybe we'll have a real winter, preferably without the Polar Vortex.
---
---
---
Good Travel Weather Thanksgiving Week. Right now I don't see any (big) storms looking out 1-2 weeks, just a series of Alberta Clippers, but little moisture available for accumulating snow. Temperature may be in the 40s, possibly 50+, depending on how quickly we lose snow already on the ground (which keeps us at least 3-7F chillier than we would be without snow cover.
---
---
Briefing: Issued Wednesday, November 11th, 2020:
Hurricane Eta
Eta As Of Wednesday Morning. Eta has become a hurricane once again according to Hurricane Hunter aircraft and Doppler radar data. As of the 7:35 AM ET update, Eta had winds of 75 mph. The center of Eta was located about 130 miles west-southwest of Ft. Myers, or 170 miles south-southwest of Tampa, and moving north-northeast of 15 mph.
---
Eta Winds. As we look at the wind field with Eta, tropical-storm-force winds are approaching the southwest Florida coast this morning. Recently a buoy southeast of the center of Eta had a wind gust to 65 mph. In the Florida Keys, a sustained wind of 43 mph and gust of 56 mph was reported at Sand Key.
---
Eta Track. The likely track of Eta has become a lot clearer over the past half a day vs. what we have observed the past few days with faster movement as well. Eta should continue to move in a general north-northeast to northeast direction over the next few days, bringing the storm close to the southwest coast of Florida today and near the west-central coast tonight. Eta is expected to move inland in the northern peninsula of Florida Thursday. Eta should then exit into the western Atlantic into Thursday Night. Eta is expected to continue near or at hurricane strength until landfall tomorrow, with quick weakening occurring after landfall.
---
Hurricane And Tropical Storm Alerts. As Eta is approaching at hurricane strength, a Hurricane Watch has been issued from Anna Maria Island to Yankeetown, FL, including Tampa. Tropical Storm Warnings are in place for Dry Tortugas and from Bonita Beach to Suwannee River, FL, including Tampa and Gainesville. Tropical Storm Watches are in place for the Cuban provinces of La Habana, Artemisa, Mayabeque, Pinar del Rio, and the Isle of Youth, north of the Suwannee River to Aucilla River, FL , and across portions of northeast Florida including Daytona Beach.
---
Tampa Winds. Winds will increase throughout today in Tampa, FL, peaking through the overnight hours before gradually decreasing tomorrow.
---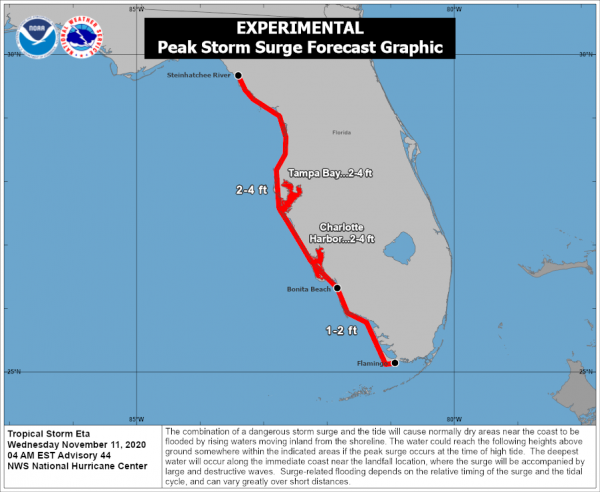 ---
Storm Surge Concerns. As Eta moves near the Florida coast, a dangerous storm surge could cause normally dry areas near the coast to flood by rising waters moving inland. The greatest storm surge of 2-4 feet could occur from the Steinhatchee River to Bonita Beach, FL including Tampa Bay and Charlotte Harbor. Storm Surge Watches are in place for those areas.
---
---
Heavy Rain And Flooding. Eta will also bring heavy rain to portions of the Southeast over the next couple of days, with numerous Flood Watches in place from western Florida into the Carolinas. Across western Florida up to 6" of rain could fall, with up to an additional 4" possible across northern and southern Florida. As moisture from Eta flows northward, rainfall amounts of 3-7" will be possible across the Carolinas, particularly in the eastern Carolinas, with the heaviest rain expected to fall Thursday.
---
Other Atlantic Concerns
---
Tropical Storm Theta. Theta continues to not be a threat to land across the eastern Atlantic in the next several days. This system has weakened slightly since yesterday but should remain around the same strength over the next couple of days before weakening into the weekend.
---
Caribbean Threat. We're also tracking a tropical wave in the eastern Caribbean Sea producing disorganized storm activity. As it continues to slowly move west this week and into the weekend, a tropical depression is likely to form over the central or western Caribbean. There is a 20% chance of formation in the next two days and an 80% chance in the next five days. This will bring heavy rain to the Virgin Islands, Puerto Rico, and portions of Hispaniola over the next day or so, with heavy rain possible in Central America as the system approaches the region.
---
Vamco In The Western Pacific
---
Latest On Vamco. Vamco (also known as Ulysses in the Philippines) has continued to maintain its strength as it approaches the Philippines and will through landfall in Luzon within the next 12 or so hours. Vamco will continue to bring heavy rain, the potential of flooding, strong winds, and storm surge to the region, including Manila. You can read the latest statement from the PAGASA-DOS here: bagong.pagasa.dost.gov.ph/tropical-cyclone/severe-weather-bulletin/2
D.J. Kayser, Meteorologist.
---
2020 Hurricane Season Breaks Record for Most Storms. Capital Weather Gang puts a crazy tropical season into perspective: "…The 29 storms are not only the mark of an unprecedented season statistically, but one that has left behind a devastating toll on the economy and people's lives. An unmatched 12 named storms, including a record-tying six hurricanes, have made landfall in the United States in 2020, leaving few areas on the Gulf and East coasts untouched. Parts of the Gulf Coast have been hit repeatedly, the state of Louisiana seeing a record five storms make landfall alone. Several meteorological influences stacked the deck in favor of this punishing onslaught, while climate change may well have intensified the season's activity and potentially expanded the zones in which storms have formed and gained strength. It may have also contributed to the season's longevity..."
---
---
---
---
Effective Government Saves Lives in Cyclones, Other Disasters. Makes sense to me, good government and warning systems in place to cut through the noise so people take meaningful action to protect their properties and their lives. Here's a clip from ScienceDaily: "…There are many examples indicating that strong institutions — including government — play a critical role in protecting populations from adverse effects of natural disasters, Tennant said. But it is much more difficult to determine how universal this relationship is, she said, because there is so much variation in the frequency and severity of storms. Natural hazards such as cyclones, the researcher wrote, result in disasters only when vulnerable human systems are exposed to hazardous conditions. In their analysis, Tennant and Gilmore explicitly accounted for hazard exposure, connecting the analysis of governance and other indicators of well-being to estimates of the severity and exposure to the tropical cyclone hazard…"
File Image: NASA.