The Perils of Snow Squalls and a Thanksgiving Thaw
Many of us become transfixed by the big snowstorms but sometimes it's the little things. Like yesterday's 60-minute snow burst, a "snow squall". Prevalent downwind of the Great Lakes, these bands of torrential snow are similar to a line of summer thunderstorms: a narrow band of intense precipitation. Visibilities can fall to zero in seconds, creating mayhem on the highways.
What I've found over the years (the hard way) is that it's not "how many inches" of snow falls. It's the timing, intensity and temperature of the roadway surface. A lousy inch, at the wrong time, with temperatures in the 20s, can be just as disruptive as a half foot of snow on a normal winter day.
---
---
---
Milder Than Average Thanksgiving for Much of USA? It's sure looking that way, as a Pacific wind flow continues to dominate weather over the lower 48 states. The only exception: northern Rockies. The models are fairly consistent with a (relatively) mild signal into late November.
---
---
---
Briefing: Issued Thursday morning, November 12th, 2020:
Latest On Eta
---
Eta Inland Over Florida. Eta made landfall near Cedar Key, FL, at 4 AM ET this morning. Since then, Eta has continued to move inland, producing heavy rain and gusty winds. As of the 7 AM ET update, the center of Eta was located about 10 miles west of Gainesville, FL, or 60 miles southwest of Jacksonville, FL, and moving northeast at 13 mph. Eta had sustained winds of 45 mph. Tropical-storm-force winds extend outward to 115 mph, but most of that is out over water to the east of the center of the storm. Recently a station at St. Augustine had a wind gust of 44 mph.
---
Eta Track. Eta will continue to move northeast over the next few days, accelerating as it does so. This should bring Eta across northern Florida into the western Atlantic as we head toward the afternoon hours, and then parallel the Carolinas as it continues to head out to sea. We should see Eta continue to weaken over the next day or so before becoming a non-tropical low on Friday when some restrengthening could occur.
---
Tropical Storm Warnings. Tropical Storm Warnings continue this morning across portions of northern Florida and far southeastern Georgia in association with Eta due to the potential of tropical-storm-force winds across the region. These will likely expire later today as Eta moves out into the Atlantic.
---
---
Heavy Rain And Flooding. Heavy rain will continue across the Mid-Atlantic and Southeast today into Friday due to tropical moisture streaming northward ahead of Eta combining with a cold front moving through the region. Overall, 2-8" of rain could fall across the region, with the potential of 2-3" per hour rates. This is likely to cause flash flooding across the region, some of which could be significant and life-threatening.
---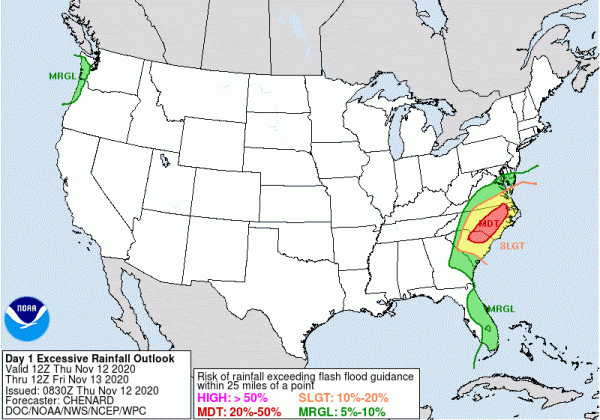 Moderate Flood Risk. Due to the heavy rain across the Carolinas today, a Moderate Risk of flash flooding is in place.
---
Storm Surge Concerns. We will continue to see some elevated water levels along the western Florida coast today which will gradually decrease today. The water could reach the following levels today, however: Suwannee River to Middle of Longboat Key, FL including Tampa Bay…1-3 feet.
---
Other Atlantic Concerns
---
Tropical Storm Theta. Theta will continue to move east-northeast and not pose a threat to land over the next several days. We should see Theta weaken as we head toward the weekend and the storm eventually turns north-northeast.
---
---
Caribbean Threat. We're also tracking a tropical wave in the central Caribbean Sea which is becoming better organized. It is likely that this will form into a tropical depression in the next couple of days as it moves west, with an 80% chance of formation in the next two days and 90% in the next five days. Heavy rain that could cause flash flooding will continue across Hispaniola today. As of this morning models continue to take this system into Central America, where additional heavy rain on top of what fell from Eta will cause flooding issues.
D.J. Kayser, Meteorologist.
---
---
2020 Hurricane Season Breaks Record for Most Storms. Capital Weather Gang puts a crazy tropical season into perspective: "…The 29 storms are not only the mark of an unprecedented season statistically, but one that has left behind a devastating toll on the economy and people's lives. An unmatched 12 named storms, including a record-tying six hurricanes, have made landfall in the United States in 2020, leaving few areas on the Gulf and East coasts untouched. Parts of the Gulf Coast have been hit repeatedly, the state of Louisiana seeing a record five storms make landfall alone. Several meteorological influences stacked the deck in favor of this punishing onslaught, while climate change may well have intensified the season's activity and potentially expanded the zones in which storms have formed and gained strength. It may have also contributed to the season's longevity..."
---