Summary
Tyler, TX-based Genesis offers Genesis PULSE, a cloud-hosted, browser-delivered software solution that enhances Computer-Aided Dispatch (CAD) systems. By using this software, emergency call centers and first responders can eliminate the frustrations encountered by the limitations of their various mapping solutions and instead, provide a single map-centric display that is real-time, intuitive, simple, secure, filterable, and replayable. This user-friendly software solution helps to simplify dispatching, validate decisions being made in-and-out of the field, and allow users to see everything. Genesis PULSE seamlessly integrates to enhance many popular CADs and ensure that the fastest, most appropriate resources are sent to every response.
Challenge
The job of a 9-1-1 dispatcher is challenging as it requires them to manage numerous screens, applications, and callers while simultaneously making critical decisions and assigning resources to help in mere seconds. It is difficult to quickly determine where responders are, whether they are available, and if any inclement weather is approaching or currently affecting them. When the power of mother nature comes rolling through, it is important for first responders to know exactly what weather-related obstacles may impede their responses so that they can continue to focus on serving their communities. If weather information is available to them, it is typically found across several different displays forcing responders to piece an overwhelming amount of information together on their own. What they need is a reliable, one-screen solution to aid them in making quick and effective decisions in any weather environment.
Solution
Genesis PULSE partnered with AerisWeather to provide a complete and detailed weather layer on top of the PULSE Live Tracking Map for emergency call centers and first responders. By deploying a bird's eye view of radar, storm cells, and severe weather alerts, Genesis PULSE in partnership with AerisWeather, empowers emergency responders to proactively avoid the heaviest and most severe aspects of a storm when it poses a threat anywhere along their route. Additionally, Genesis PULSE with AerisWeather enables users to plan complex weather threat responses ahead of time by giving a full picture of their service area with incoming and nearby weather phenomena clearly displayed. When a weather event passes, PULSE users can replay 9-1-1 responses to evaluate decisions and better understand the full picture to train teams on best practices going forward.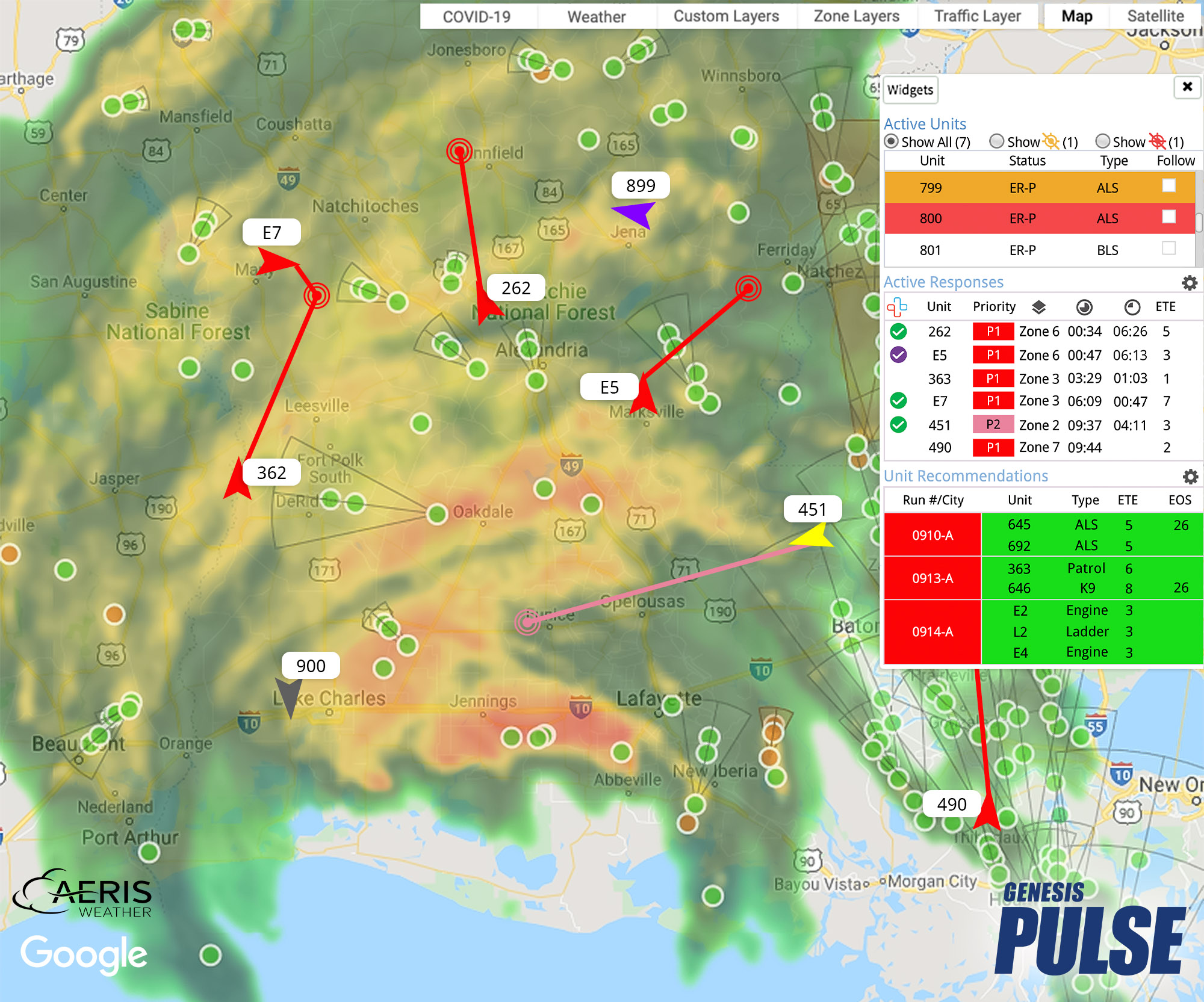 Results
Genesis PULSE visually displays locations of first responders, 9-1-1 callers, weather, and more on a single intuitive map-centric display. This makes it simple for dispatchers to see the most critical system-wide information, including weather, on one map, in real-time, and to choose the fastest resources to respond and get help to those in need. This results in public safety agencies making more informed, more safety-conscious decisions in directing first responders and paving the way for new weather-related products in the future. Genesis PULSE's tagline is "Simplify Dispatching, Validate Decisions, See Everything", and their innovative CAD enhancements certainly accomplish this. Genesis and AerisWeather are actively working together to explore additional weather advisement opportunities, so stay tuned for what's next from these cutting-edge teams!