Legacy Graphics to AMP Migration Guide
All great things must come to an end, including the Aeris Legacy Graphics. Originally started in 2004, these graphics are being end of lifed on June 30th, 2017. Fret not, as our Aeris Maps Platform (AMP) is ready for you to use today and has been our primary graphics platform since Feburary 2016. The question now is, how do I go about transitioning from the Legacy Graphics to AMP? We understand you are busy so we have created this document to help ease the cutover.
Overview
Features
Why AMP? We wanted to introduce more flexibility and allow you to tailor our weather data in a way that would give your audience a unique experience. Below is a list of features you have with the Legacy Graphics and AMP, followed by a list of features you will gain by using AMP.
Existing Features
Weather maps for your applications
Ability to title and brand your map with limited customization
Built-in Legends
Easy integration
Limited global coverage
Limited map size options
New Features Only Offered In AMP
Selection of base and overlay layers with built-in styling options
Customize your legend with the Legend Generator
Build the perfect map with our Map Builder
Access to forecast models (NDFD, GFS, NAM, HRRR, etc.)
Generate maps with custom width and height
Center your map on any global location
Use bounding box options to draw your maps boundaries
Integrate our layers into most any 3rd party mapping library
Expanded global coverage
Integrate your map into any web page or mobile application with our SDK's
Extensive and expanding online documentation
Accessing Your Options
The Legacy Graphics offered the handy Access Helper which provided a few options to help create your weather map. The options were fairly limited, allowing you to select a weather map, pre-defined region, and toggle the title bar, legend and point data. AMP offers a unique tool for creating maps called the Map Builder. With the Map Builder you have all these same options; however, they have been presented a little differently. You can access the Map Builder by logging into your Aeris account and locating the Map Builder tab. Below is a list of common features found in the Access Helper along with a brief summary of where to find similar features in AMP.
Date Type & Contour Data Set
The purpose of Contour Data Set was to identify the category of weather maps (current, forecast, convective outlook, etc.). From there, you would have various options in the Data Type dropdown that directly correlated with the 'Contour Data Set' selection. With the Map Builder, we have all these options listed under the 'Layer Options' section. Click through the various categories to see what layer options you have per your subscription package. The Map Layers page that provides additional details.
The Legacy Graphics gave you a number of regions to choose from; however, this did not provide much wiggle room if you wanted to change the map coverage area. You were locked into images that only fit a 4:3 ratio. The region selector is a thing of the past and now you can define your own region. With AMP we build your map based on the parameters you've passed, allowing you to generate a custom sized map, centered on any global location, at user defined zoom level. This can be accomplished in the Map Options section of the map builder. If you would prefer to generate your map with a bounding box instead, AMP supports this as well. Check out the bounding box and center point options in our online docs for more information.
Point Data
Here you had the ability to add text data for the applicable layers. Instead of toggling this option in the Map Builder, there are separate layers for each text layer we offer. Accessing the metric version of each text layer is done by adding the appropriate modifier to the layer name. For example, calling the temperatures-text layer will default to the imperial (F) unit of measurement. By adding -metric to the layer name you can access the metric (C) unit of measurement - full layer name, in this case, would be temperatures-text-metric.
Size
As previously mentioned in the Region section above, you no longer have to choose from our very short list of size options. You tell us the size and AMP will take care of the rest.
Legend and Title
There are 3 options in this section: Legend Bar + Title Bar, Legend Bar only, and Title Bar only. In order to allow customization, AMP provides a few different options for adding these components to your map. Check out the Adding Non-Layer Items section below for more information.
Legends
Another great feature of AMP is the Legend Generator which can be accessed by logging into your Aeris account and finding the Legend Generator tab. The Legend Generator allows you to customize various components of your legend with the only limitation being the color ramp that is used. Each data set has an out-the-box legend that is ready for you to use in the Legend Generator if you do not need to customize your legend.
Adding Non-Layer Items
There are a number of items that you may want to include in or on your map that is not included in the map layers. Common items include:
Legends
Map Title
Branding/Watermarks
Timestamp
Here are 3 options we would recommend for adding these items to your map:
HTML/CSS - Visit our HTML/CSS Branding page for details examples.
AMP Visualizer - Our developer have created a .js library for creating, displaying, and animation AMP imagery. Check out the AMP Visualizer docs for more information.
Proxy script - Fetch the desired AMP image and add your own brand/title/legend on your servers before serving up the image on your application.
Layer Options
In the Map Layers documentation, there is a column titled, modifiers. Modifiers can do a number of different things depending on what layer you are requesting.
Looking at the Base Maps category, you'll notice flat and terrain both have a -dk modifiers. This means you could access flat as a base map OR flat-dk to render this base with a dark theme. In the Overlays category, all of these layers have the -dk theme and a few of them have the large theme option listed as -lg. You can also use any combination of these modifiers. For example, here are a few images with the flat base map and all combinations available with the admin layer:
admin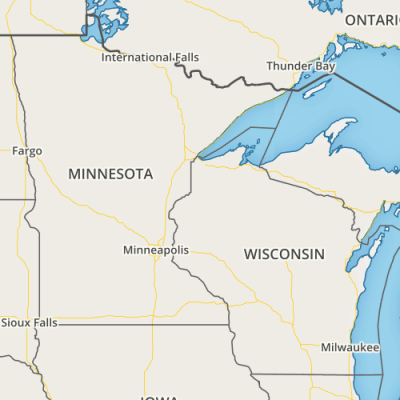 admin-dk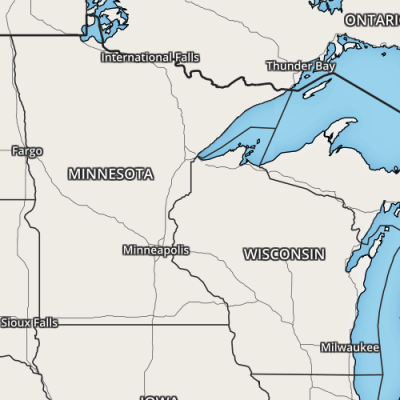 admin-lg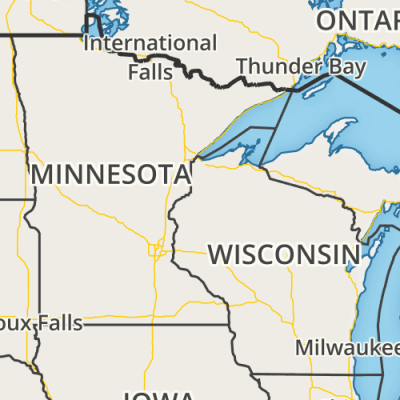 admin-dk-lg
Some layers also have data specific modifiers. As mentioned in the Point Data section above, the metric modifier can be accessed in order to display temperatures in Celsius. Another data specific modifier we offer allows you to render model specific data. For example, under the Forecasts category, you will see the ftemperatures layer. This layer has 4 model modifiers: HRRR, NAM, GFS, and NDFD. Add any of these modifiers to the layer name to your request to access the model specific data. Multiple modifiers cannot be used for model specific data. However, if you needed access all models you could make multiple layer requests with the appropriate modifiers.
Examples
Below is an example of the Map Builder being put to use. Here you will see the default layers being removed and a global temperatures layer being added:
Here's an example of a Legacy Graphics generated map alongside the AMP equivalent via the AMP Visualizer. This map was generated with the following criteria in mind:
Current Temperatures (no text)
Map Title
Watermark
Timestamp
Legend
Current Temperatures - Legacy Graphics
Current Temperatures - AMP
Comparison Chart
Here's a comparison chart for the commonly accessed categories from the Legacy Graphics and their AMP counterparts.
| Legacy Graphics Category | AMP Category |
| --- | --- |
| Currents | Observations |
| Severe | Severe |
| Radar | Radar + Satellite |
| Satellite | Radar + Satellite |
| Forecasts | Forecasts |
| Convective/Fires | Outlooks |
Can't find a specific layer on the new platform? Feel free to contact our support staff for additional information.
Support
As the deadline for the Legacy Graphics approaches, we are prepared to help! Our support staff will gladly assist with any questions you may have about your migration so please feel free to reach out. Also, we rely on your feedback to continuously improve our products and services. If you have any suggestions or recommendations for AMP, please let us know. Our support staff can be reached by submitting a ticket here.
AerisWeather offers a status page for you to utilize. This page will keep you in the loop when we push out new updates to AMP. By subscribing to updates, you will receive email alerts when we perform scheduled maintenance, address critical incidents and system status updates. Don't like receiving automated emails? That's fine, just bookmark this page and check on it as needed.
Helpful Links
* - requires you to be logged into your Aeris account.